What is Fleet Insurance?
Fleet vehicle insurance is a type of commercial insurance policy that covers a group of vehicles owned or operated by a single company.
A policy can cover all types of vehicles within your fleet, though you can get specialist policies for vans or other non-car vehicles you might have.
For a business to be able to have a fleet policy they need to have at least two vehicles that they want to put on the same policy. You might find that particular policy rates are only available for fleets of a certain size, or that some have a maximum number of vehicles they can put on one policy.
Fleet insurance is designed solely for businesses and their commercial vehicles, whether owned or just operated by the company and so is specifically designed to cover areas of concerns that businesses have which individual drivers might not.
What Does Fleet Insurance Cover?
Fleet insurance is fairly similar to standard vehicle insurance and will cover a lot of the same things, though there are additional business specific features that will be available.
Depending on the policy and level of cover you opt for your policy will usually cover:
Vehicle loss
Vehicle damage
Vehicle recovery in the event of an accident or breakdown
Legal fees
Breakdown cover
Damage to glass
Replacement locks if your keys are lost or stolen
Support towards medical expenses
Driving abroad for a set number of days
Protection for personal belongings lost or damaged in the vehicle
Trailers attached to a vehicle
Courtesy car use while a vehicle is being repaired
Goods in transit cover
Employer liability cover
Public liability
This is just a general guide of what might be included, and the specifics of your policy may vary depending on your specific insurance policy and the level of cover it provides and any additional products you add.
Just like with an individual driver's insurance there are some circumstances that a provider may not uphold a claim.
Before adding a new type of vehicle to your policy it's worth checking that it will be covered, for example a lot of policies will not cover motorbikes or forklift trucks.
Some other common exclusions include:
Vehicle theft due to driver negligence, like the vehicle being unlocked
Damage to vehicle due to driver negligence
Damage to tyres
Types of Fleet Insurance Policies
As mentioned above there are different levels of insurance that you can get as well as different policies. The three levels of fleet vehicle insurances available:
Third-Party Only Insurance
The minimum legal level of cover in the UK is third-party insurance, and so is the cheapest insurance available.
This covers you against any injuries to a third party or damage to their property or vehicles in an accident deemed by your driver's fault. However, this does not cover the cost of damage to your fleet's vehicles, company property or injuries sustained by any of your drivers if they are involved in an accident that is their fault and so your business will be responsible for the cost of this.
Third-Party, Fire and Theft Insurance
The middle level of insurance is third-party, fire and theft.
This will still cover any damage to third-party property or vehicles, and injuries to third parties in an accident that is deemed one of your drivers is responsible. It will additionally cover your vehicles from damage incurred from fire outbreaks and theft, or attempted theft.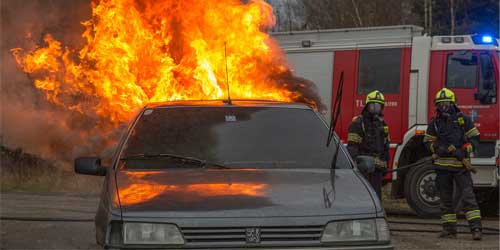 Fully Comprehensive Insurance
Fully comprehensive insurance policies are the highest level of coverage available and will cover any damage to your vehicles as well as injury to your drivers as well as any fire damage, theft and damage or injuries to third parties.
It will also cover any damage to the vehicle where the person at fault is unknown or uninsured, which includes if a pool car is returned damaged but you're unsure of the fault.
This is the most expensive level of insurance available but can ultimately save you money if your drivers are ever involved in an accident.
General Business Fleet Insurance
Business fleet insurance is flexible fleet insurance and is widely used by companies across various sectors of business because it is more generalised.
It covers company cars that are used as pool vehicles and those that have been assigned to a specific driver and will cover vehicles that are a variety of ages, models and uses.
Alongside general business vehicle insurance is a variety of different specialist products, which are tailored to particular areas of business and purposes. These are usually sold as an add on to general business fleet insurance to cover particular concerns for those businesses.
The main specialist fleet policies include:

Taxi Fleet Insurance
Companies that operate taxis for public or private hire generally have a fleet of various vehicle ages, sizes and conditions, all of which affect the value of the individual vehicles but make it more complex to calculate the overall fleet risk.
Additionally, this is a profession where drivers spend their entire working day in the vehicle and so there's a great risk because of this that they will be involved in an accident, and day to day wear will be higher.
Another factor that needs to be considered by insurers is that they will be carrying passengers in the vehicle.
Taxi fleet insurance takes these factors into account these increased risks as well as provide additional cover for the passengers that drivers will be carrying.
Minibus Fleet Insurance
Similar to taxi insurance you can get specialist minibus fleet insurance which takes into account that the driver will usually be in the vehicle for the majority of their working day as well as providing additional cover for the passengers that are carried in the vehicle.
Due to the size of most minibuses and coaches and the number of passengers they are able to carry drivers will be required to take additional training in order to get a valid licence to drive them. Some insurance providers will request a copy of valid driving licences for your employees in order to provide a minibus or coach fleet policy.
Light Goods Fleet Insurance
Light goods vehicles or light commercial vehicles are usually classed as commercial carrier vehicles with a gross weight below 3.5 tonnes.
A lot of vans will fall under this category, and we've got more information on van fleet insurance below.
The majority of vehicles that fall into this category are used by tradesmen transporting tools and equipment which light goods vehicle policies can cover as well as the vehicle itself if there is an accident or theft.
If you have a larger or heavier vehicle a lot of providers can offer an extension to cover up to 7.5 tonnes.
Hazardous Goods Fleet Insurance
Companies that transport items that are classed as hazardous goods, which includes chemicals, toxic waste, explosives, corrosive fluids, radioactive materials and biological waste, will have to comply with a number of laws and regulations on the transportation of these materials.
These goods are not restricted to a particular vehicle for transportation, but most companies find it easier to meet the regulations in a lorry or tanker.
Carrying these kinds of material brings a greater risk for the driver, their business and the insurance provider that covers them. If involved in an accident these materials could bring with them a costly cleanup bill, cause serious damage to property and grave injury, even death to those involved. These factors not only increase the risk to the driver but also to the environment and other road users, which is why there is an increased risk of lawsuits as well if a vehicle carrying hazardous goods is involved in an accident.
A specialist hazardous goods fleet insurance will cover these additional circumstances that your business might face if you transport these goods and one of your vehicles is involved in an accident.
Haulage and Courier Fleet Insurance
Transportation and logistics companies whose vehicles are involved in the collection and delivery of goods across the UK often opt for additional insurance with the specialist haulage and courier fleet insurance.
Just like other vehicles mentioned where the drivers' job is to drive there is an increased risk that comes from this, for both the potential for accidents and general day to day damage to the vehicle.
Vehicles that are transporting goods are also at higher risk of theft and attempted theft.
Haulage and courier policies anticipate these risks as well as provide you with goods in transit insurance which covers the items being transported.
Van Fleet Insurance
Van fleet insurance is a fleet insurance policy that is specifically designed for vans that will cover all your business' vans under one insurance policy.
This is a useful insurance option for companies that only have vans on their fleet, or have a large number of vehicles, many of which are vans, and want to have a specialist van policy.
A van fleet policy will cover your multiple vans and drivers and is available as a third-party, third-party, fire and theft or fully comprehensive policy.
Van fleet policies can cover:
Mechanical breakdown
Recovery if repairs cannot be carried out at the roadside
Damage caused by accidents
Damage caused by vandalism
Theft and attempted theft
Replacement keys if they are lost or stolen
Courtesy car use while a vehicle is being repaired
Goods in transit cover
Employer liability cover
Public liability
Support for medical expenses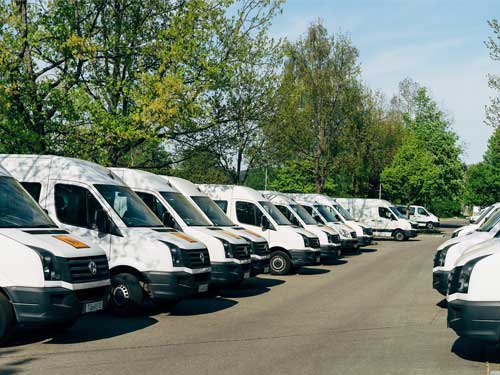 This is just a general idea of what might be covered in a van fleet insurance policy, and the actual features will vary between policies
Why Does My Business Need Fleet Insurance?
It is a legal requirement for all vehicles to be insured unless they are of fthe road and you have notified the DVLA they are sorn.
If your business has a fleet then it will be the company's responsibility to ensure that all vehicles are appropriately insured.
Fleet insurance can come with a number of benefits which we explore below, but perhaps the most useful of which is the reduction in admin work for your business in order to keep all your vehicles insured.
Benefits of a Business Fleet Insurance Policy
There are many benefits that come from having a fleet insurance policy, for both your business and your drivers.
The first is that it ensures all vehicles in your fleet are compliant with the UK road law to be insured and removes the risk of any one car or driver being accidentally uninsured as there are not multiple policies for you to manage or uncertainty for your drivers over who should be insuring the vehicle.
The policy will also have just one renewal date, which means you won't need to keep track of multiple dates for each of your vehicles renewal dates.
As well as being easier to manage the admin of, having a fleet policy also simplifies payments so they are made as one single payment at one time rather than a lot of payments at different times.
It can also save you money, as companies tend to provide discounts for customers who want to insure a number of vehicles with them.
Some policies also spread the risk across the fleet, which enables them to offer a lower rate as well, especially if there is a fairly large number of vehicles in your fleet.
Fleet Insurance FAQs
We've rounded up some of the most commonly asked questions about fleet insurance and provided the answers below so that you have all the answers in one place!
How Much Does Fleet Insurance Cost?
Unfortunately, there's no fixed sum that we can quote for the price of fleet insurance, as just like any other vehicle insurance it depends on a number of factors.
Your insurer will take into account the size of your fleet, the vehicle make, model, age, and condition as well as the level of cover that you need. Additionally, they may also consider the sector the business is in and any additional cover you might need as a result of this.
If you are interested in fleet insurance then you will be able to get quotes for your specific company's needs and then decide from there which is the best policy for you.
How Many Vehicles Do I Need For Fleet Insurance?
You can get fleet insurance for as few as two vehicles, provided they are both in the business name.
Most insurance providers can provide a policy for up to 500 cars, but if your fleet is larger than this they should be able to still cover all your vehicles though it may require two policies with mirrored terms.
Does Fleet Insurance Cover Any Driver?
Whether fleet insurance covers all drivers will depend on the type of insurance you opt for. Some insurance will cover all your drivers on all vehicles, known as any driver insurance, or you can assign a driver to a specific vehicle with a named driver insurance policy.
It depends on your business and how your vehicles are used as to which type will be the best for your business. If you have a lot of pool vehicles then an any driver policy would be best but if each of your vehicles are assigned to an employee for their company car then a named driver policy would probably work better.
How Do You Qualify For Fleet Insurance?
All you need to qualify for fleet insurance is to be a business and to have vehicles on finance or owned in the company's name.
Can You Get No Claims On Fleet Insurance?
Unfortunately, fleet insurance policies do not provide you with any no claims discount. However, the business may receive a confirmed fleet claims experience report which can act similarly in order to keep the cost of insurance premiums down.
Individual drivers may also be able to use their claims free years towards a no claims period when they return to insuring a private vehicle after being a company driver, though this may depend on their insurance provider and how their company car worked.
For more information on fleet insurance and how Wessex Fleet can help you arrange this, as well as any other aspect of fleet management you're looking for support with then just give us a call on 01722 322 888. Alternatively if you would like to learn more about maintenance or any other aspect of fleet management then check out our services pages or FAQs .