December 15, 2020

Will Bullen

Articles
Generally, nobody went anywhere this year. Since the start of regional restrictions and national lockdowns, free movement largely came to a halt.
Everyone's been affected, but as it's Christmas, we've made a case for Santa Claus coming off the worst and worked out the fines he'd be landed with if he was to flout the UK's Covid rules on Christmas Eve. Mince pies and milk optional, sanitiser mandatory.
How much would Santa be fined?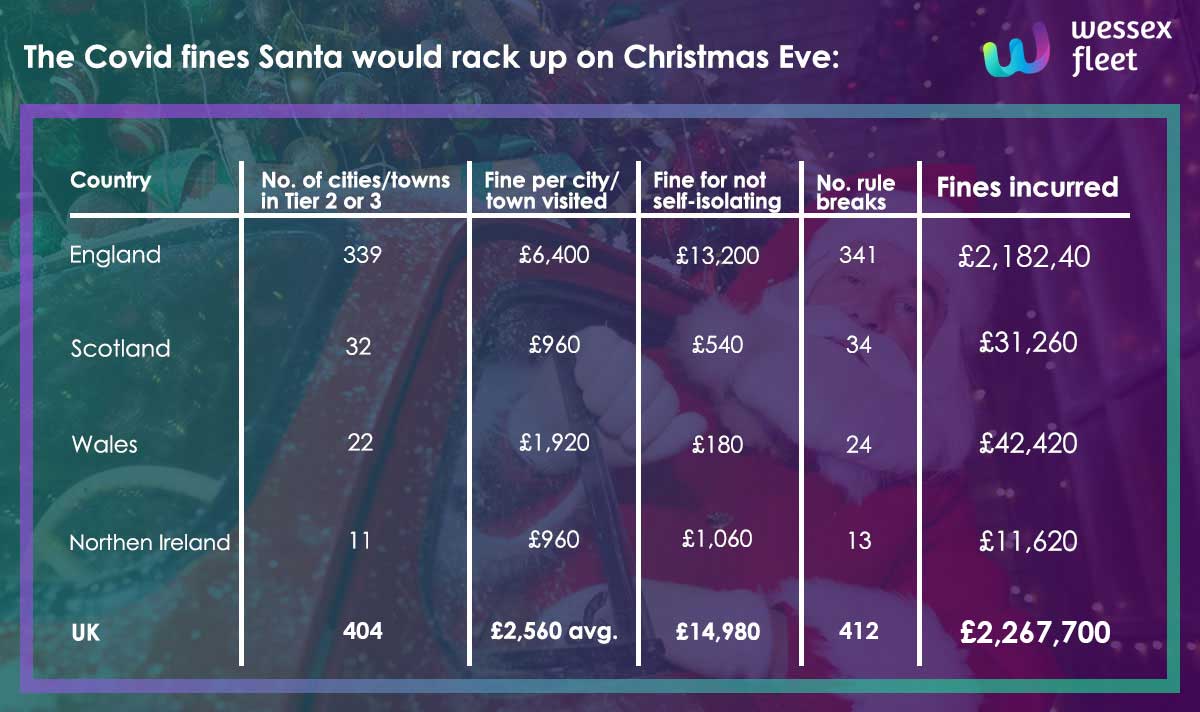 Looking at each of the UK's local authorities – 408 in all – and their fines for breaking restrictions, St. Nick will likely get a £2.2m penalty in the post.
Even the joint agreement that allows the mixing of three households over Christmas won't help his case – in England alone, he'd be charged to the tune of £6,400 for each of the 339 cities and towns in Tier 2 and Tier 3. Scotland and Northern Ireland are the most lenient, but even they'd demand just under a grand for each area visited.
On top of that, he'd be fined for not self-isolating; with nearly 200 countries to visit in the one night, there's a good chance he'll be travelling to us from an at-risk country. He'd also be unable to fill out a passenger locator form, as he wouldn't be in one house long enough – the total fine for that and not self-isolating could be only £20 shy of £15,000.
And we're assuming the authorities will be overcome with festive cheer and only fine him per city or town visited, rather than each of the UK's 25 million households – the fine for that would be closer to, well, 126 thousand octillion pounds.
A Christmas Miracle?
How Santa's fines could be spent:
42,787 pothole repairs

49,298 households' worth

M&S turkeys

283

,463 Santa hats

323,957 Home Alone boxsets

985,957 free school meals

9,070,800 Freddos
On the other hand, Santa's chance of catching or transmitting the virus would, of course, be very low as he'll be long gone by morning. In addition, the funds raised through his fines, it turns out, could cover a load of worthy causes.
At an average cost of £53 a repair, the governments could mend over 42,000 potholes, or buy nearly 50,000 households' worth of Marks & Spencer turkeys. Beyond that, they could help Marcus Rashford and pitch in with nearly 986,000 free school meals. That's a fair few more than the £10,000 raised through Rita Ora's birthday gathering could cover.
Methodology
The Covid fines for each of the UK countries (England, Scotland, Wales and Northern Ireland) were taken from the Met Police and government sites. These were used to calculate what Santa would be charged for visiting each of the local authorities.
However, as England's Tier 1 areas are exempt from the stricter household mixing rules, we've excluded the Isle of Wight, the Isles of Scilly, Cornwall and Herefordshire from our working out.
We also tallied the fines for not self-isolating after visiting from outside the UK's travel corridor and not completing a passenger locator form – hence the number of rules broken being two higher than the number of local authorities featured.
For the latest on the UK's Covid guidance and fines, keep an eye on the UK government site, where you'll also find advice for Scotland, Wales and Northern Ireland.