January 27, 2021

Abby Nuttall

Wessex Fleet Updates
If you're looking at, or already own, an electric vehicle (EV) or a plug-in hybrid (PHEV) then chances are that you've heard of Pod Point. They're one of the UK's leading providers of public, business and home charging units.
Pod Point was founded in 2009 and since then they've developed an extensive network of public charging points, working with Tesco, Lidl and Center Parcs to provide charging in their car parks, as well as their public chargers at motorway service stations and other locations.
Alongside their extensive public charging network Pod Point also provide home and workplace charging units and have sold nearly 100,000 in the UK and Norway.
They are an Office for Low Emission Vehicles (OLEV) approved installer and whether you're installing a charger at home or at your business for employees you will be eligible for a grant to help with the costs through one of the OLEV schemes
Wessex Fleet are proud to be an official partner of Pod Point and to be able to advise you on installing chargers at your home or workplace.
Pod Point Home Chargers
Pod Point's home charging unit is called the Solo Charger.
This is a single vehicle charger and available with either a universal socket or as a tethered model, which is where the cable is attached to the vehicle. If you decide a tethered model is the right choice for your home then you will have the choice of either a Type 1 or Type 2 cable. The Type 1 unit has a 4.8m cable and the Type 2 has a 7.5m cable.
You will also have the choice of three speeds of charging, though not all speeds may be available in all locations.
There is the 3.6 kW charger which would be classed as a slow charger taking around six to 12 hours to fully charge most electric vehicles. The next speed is 7 kW, which is a fast charger and the most commonly installed option as it can charge your vehicle fairly quickly but does not have the same energy demand as a higher speed. The third option is a rapid charger with 22 kW available.
A Solo Charger is a wall-mounted unit and measures 150mm deep and 360mm in diameter. Pod Point's installers will ensure it is placed in a suitable location for you.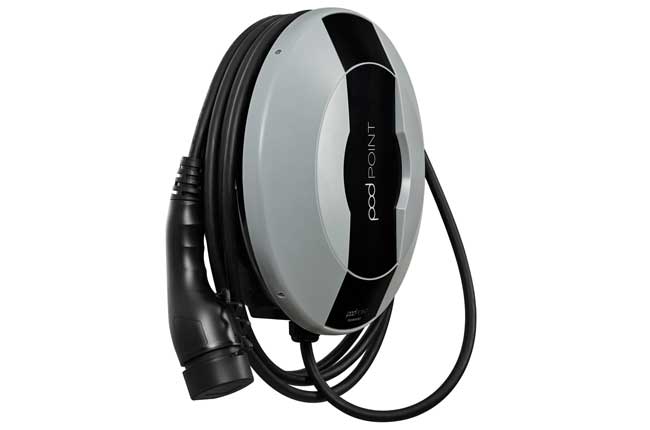 The Solo Charger is also a smart charging unit. This means that when it is installed you will be asked to connect it to your WiFi network as this allows over wireless software updates, remote support and diagnostics if needed, connectivity with the Pod Point app to see your usage data and a range of other upcoming smart features. The level of data that the charger uses is minimum and will be around 288KB daily, which is about the same as streaming under a second of a Youtube video.
For more information on the difference between tethered and untethered or the speeds of home chargers and which is right for you then please give us a call on 01722 322 888.
Workplace Pod Point Chargers
Pod Point are also able to install charging units at your business so employees with EVs can charge whilst in the office.
For more information on this please give us a call on 01722 322 888 and we can discuss the options with you.
For businesses Pod Point provide the option of outright purchase of the units or leasing them for a cost to minimise the upfront cost to you.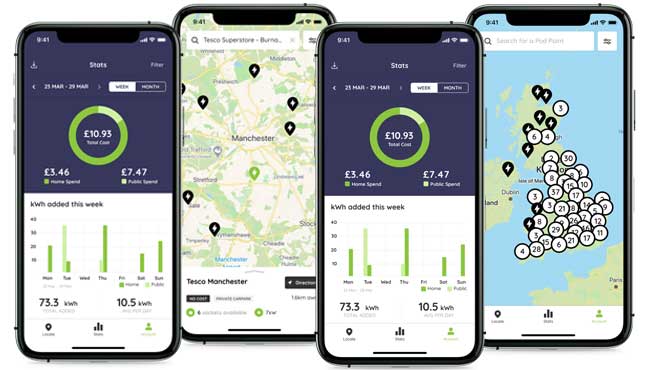 Pod Point App
Whether you have a Pod Point unit installed at your home or workplace or are using their public network then we would recommend downloading the Pod Point App. You will need to set up an account with the app, including payment details for using their public network but once this is set up you'll have access to a whole range of features.
You can view their public charging network on an interactive map to help you find local chargers or plan a longer journey. You can also confirm and pay for charging on the public network if using it for longer than 15 minutes.
For your home unit you can add your charger's details and even add your electricity tariff to get accurate usage and cost data at any time.
You'll be able to see data on your charging use, have this explained and pull reports on it all via the app as well.
If you have any questions about Pod Point or would like more information then please give us a call on 01722 322 888.