February 11, 2021

Abby Nuttall

Articles
You might think the back-to-back lockdowns and restricted movement would have put the UK's speed cameras on furlough, but you'd be wrong.
There's less reason to be out in the car and even less to be in a rush, but 2020's data shows motorists are still being caught out in their droves. Wessex Fleet has issued Freedom of Information requests to each of the UK's 45 police forces to determine the scale of that.
Analysing each area's most prolific routes for speeding offences, covering 699,517 incidents, we can reveal the most and least dangerous roads.
Kent is home to the UK's most dangerous road for speeding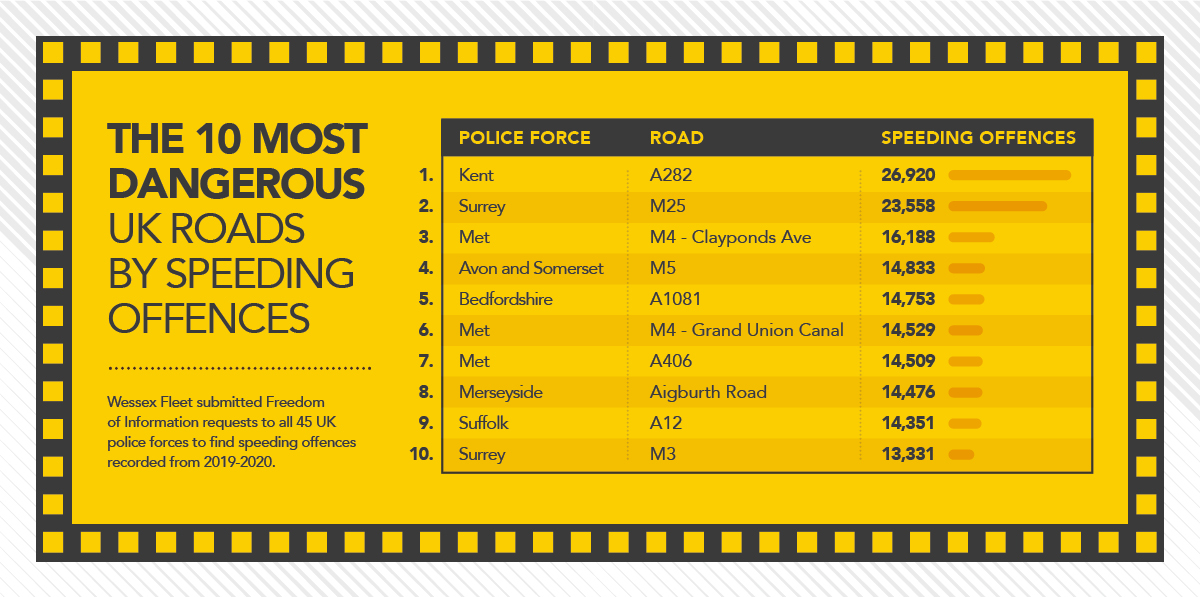 Between the 10 most dangerous roads, there were 167,448 registered cases of speeding in 2020. Over a quarter of them were recorded by the Metropolitan Police alone (45,226). In fact, more than 3,200 tickets were handed out in the first full month of lockdown in April 2020 – a 71% jump on 2019.
But it's Kent's A282 and Surrey's stretch of the M25 that have come out as the worst; a total of 50,478 drivers were caught out on these roads in 2020.
Only one northern police force features among the worst 10 roads – Merseyside's Aigburth Road, with 14,476 incidents.
More than 80% of the safest roads are in Wales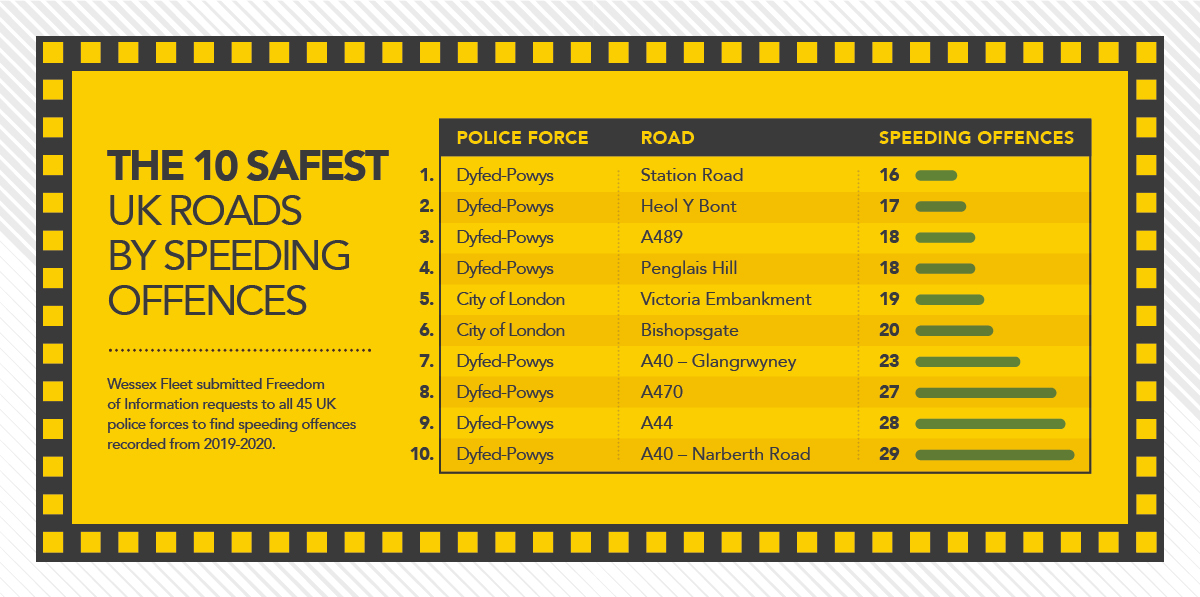 Only 215 instances of speeding were caught on the 10 safest roads last year, but a ridiculous 82% of those (176) were recorded on roads under the jurisdiction of Dyfed-Powys Police – a stat that's even more impressive when considering the force covers over four tenths of Wales' total area.
The only other force to feature in the best 10 is the City of London Police, covering only 2.8km2 – not even 1% of the size of Dyfed-Powys' region. Victoria Embankment, running north from Big Ben, is the safest of its roads with less than 20 recorded cases of speeding.
Kent, Surrey and the Met among the UK's most dangerous areas for speeding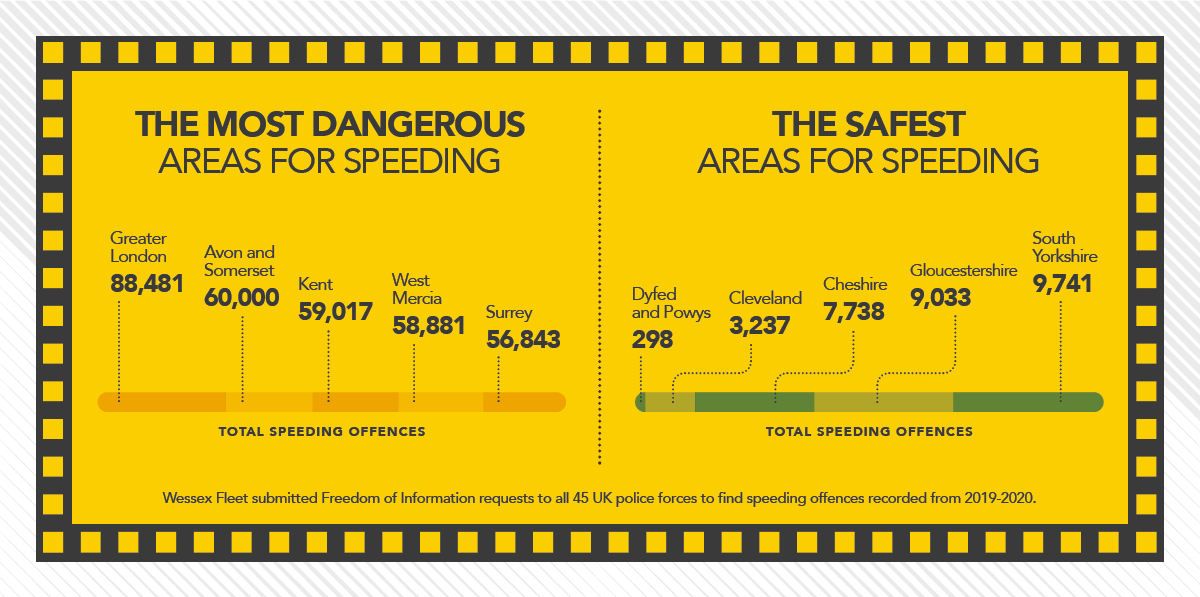 Greater London, policed by the Met, is far and aware the worst area for speeding offences – 88,481 instances were recorded, almost 30,000 more than second-placed Avon and Somerset on 60,000 exactly.
It's little surprise to find Kent and Surrey here, with Kent's A282 being the single most dangerous road in our research (26,920 cases of speeding) and Surrey's M25 and M3 also featuring among the worst ten (36,889 cases combined).
Northern roads are nearly 20 times safer than those in the South
More than half of the safest areas are governed by Northern police forces, with Gloucestershire being the only from the South of England to feature.
With a total of 323,222 speeding offences recorded by Southern forces in the most dangerous list, and only 20,716 in the Northern regions above, our research shows that the North is nearly 20 times safer than the South when it comes to speeding.
Across the Welsh border, Dyfed-Powys Police is again a standout performer, with a total of just 298 speeding offences recorded last year – more than 90% better off than the second safest.
Methodology
To highlight the best and worst of the UK's roads for speeding, we issued a Freedom of Information request to each of the 45 police forces in England, Scotland, Wales and Northern Ireland.
Although we didn't receive a timely response from all forces, the data gathered covers hundreds of UK roads and hundreds of thousands of speeding reports – filtering each force by the 10 roads with the most cases of speeding, we've analysed 699,517 instances.
Keep an eye on the Wessex Fleet blog for more in the way of automotive insight and features.