March 15, 2021

Abby Nuttall

Electric and Hybrid News
What is a Clean Are Zone?
A clean air zone, also known as a CAZ, is a charging system that local authorities put in place to reduce emissions in a particular area.
The aim of a clean air zone is to reduce the air and noise pollution that cars bring into the city, to help improve air quality for residents, business owners and pedestrians in the area.
They are usually put into town and city centres as these are the areas that tend to be more heavily trafficked and built up so there are higher pollution levels and more people who are likely to be affected by it.
There are four classes of CAZ areas which are:
Class A – applies to buses, coaches, taxis and private hire vehicles (PHVs).
Class B – applies to buses, coaches, taxis, PHVs and heavy goods vehicles (HGVs).
Class C – applies to buses, coaches, taxis, PHVs, HGVs and light goods vehicles (LGVs).
Class D – applies to buses, coaches, taxis, PHVs, HGVs, LGVs and cars.
The minimum vehicle standard for a CAZ is Euro VI for buses, coaches and HGVs and Euro 6 (diesel) and Euro 4 (petrol) for vans, minibuses, taxis, private hire and cars. You can see if your vehicles are compliant on the government's website.
Bath CAZ
Today is the day that Bath's city centre CAZ goes live. It is a class C CAZ so there will currently be no charge for uncompliant motorcycles or private cars, even if they are used for work purposes.
However, there will be charges for commercial vehicles. Please see the table below for the charges: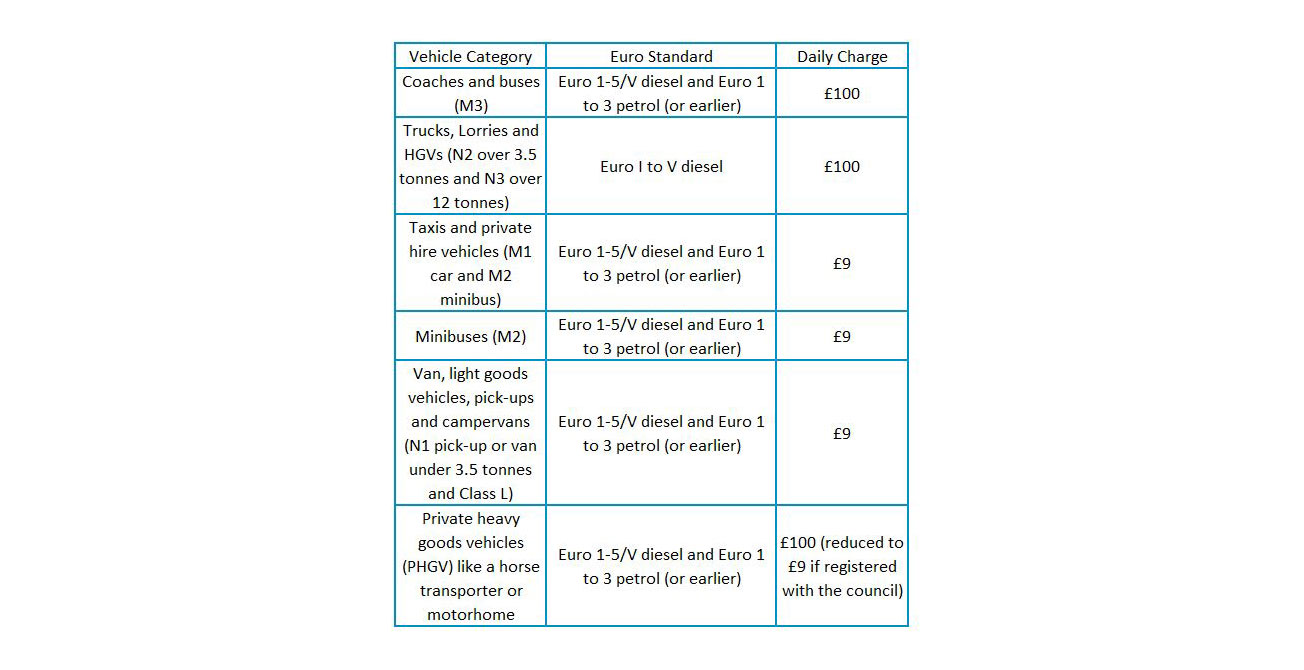 Bath hopes to help reduce the levels of air pollutants like nitrogen dioxide (NO2) which is typically caused by diesel and older petrol models, and in some areas of the city currently exceeds legal limits.
In conjunction with the CAZ Bath are also working to improve pedestrian and cycle routes around the city and their public transport to encourage visitors to choose more sustainable, and less environmentally harmful, ways of travelling.
If you do a lot of driving around Bath then you will find this page helpful as it helps to explain everything you need to know about the CAZ.
Birmingham CAZ
Birmingham's CAZ is not due to go live until the 1st of June but the Brum Breathes team will be hosting an online Q&A session to explain how it will work, who will be affected and the support available for them.
This session will be tomorrow afternoon between 2 pm and 3 pm. If you would like to attend then you can register here.
If you would like to check whether your vehicle will be charged to drive in a CAZ or find out more about them then take a look at the government's guidance here.
We'll keep you updated as there's more information about CAZs across the UK.