February 18, 2022

Abby Nuttall

Electric and Hybrid News
The Electric Vehicle Homecharge Scheme (EVHS) is designed to help drivers with the cost of installing a charging unit for the EV at home and since it was introduced in September 2014 it had provided more than £78 million in funding.
The EVHS operates alongside the Workplace Charge Scheme (WCS) which assists businesses with the cost of installing chargers at the workplace for employees to use. Both schemes are run by the Office for Zero Emission Vehicles (OZEV).
Currently, the EVHS is providing a grant of up to £350 towards the cost of purchasing and installing a home charging unit, but this is set to change as of the 31st of March.
Who is Currently Eligible for the Grant?
Under the current scheme, which is due to end at the end of March, all homeowners who have off-street parking and are registered as the owner (or driver in the case of a lease agreement) of an electric vehicle are eligible for the grant.
Drivers of plug-in hybrids (PHEVs), as well as fully electric vehicles (EVs), can apply for the scheme as they require a charger to repower the electric motor.
Please note that you can only apply for a maximum of two chargers per household, and you cannot apply for more chargers than the number of EVs you have.
What's Changing with the Home Charger Grant?
As of the 31st of March however the eligibility rules will be changing and owners of detached, semi-detached and terraced houses as well as bungalows will no longer be eligible for the grant.
This is because OZEV are shifting focus to help those living in leasehold flats and landlords of rental properties, to try and remove a barrier for those living in these properties to driving an EV.
Landlords will be able to apply for up to 200 properties annually for a maximum of £70,000 and there will be no limit on the number of chargers per property, but each must have private parking for that property.
If the property is an apartment block, then the owner will be able to apply for up to 30 charging units at a maximum cost of £30,000 annually with up to £850 applied per parking bay or up to £500 to provide the infrastructure to install a charge point in the future.
How to Get the Grant in Time
You will need to have your home charging unit installed before the change comes into play on the 31st of March, in order to qualify for the grant, which means you should be talking to installers now to arrange this.
If you would like to learn more about how Wessex Fleet can help you with this click here!
How Much Does an EV Home Charger Cost?
The grant will go towards the cost of purchasing and installing a home charger as the average cost is around £850. Prices range from £300 to £1,500 though depending on the speed of charger you want. Additionally, you may end up paying more for installation depending on your property's electrics and if any amendments need to be made to them.
We recommend speaking to an OZEV approved installer as prior to installation they will usually inspect the property and be able to advise on the cost of any additional electrical work required.
Wessex Fleet and Ohme Charging
Wessex Fleet have partnered with Ohme, a company who are dedicated to providing their customers with innovative smart charging units.
A smart charger, such as the Ohme Home Pro, integrates with your energy tariff to charge your car at the most optimal time of the day to utilise lower tariffs to save you more money and further reduce CO2 emissions.
Ohme work with a nationwide network of OZEV approved installers so that they can arrange your installation as quickly and efficiently as possible for you.
Key Facts of Ohme Home Pro
It offers you fast charging at 7kW which will take you from 20 to 80 % charge in around 4-6 hours depending on your car's accepting speed.
Is a tethered unit with a five metre type 2 connector.
Comes with 3G / 4G connectivity to enable smart charging features.
Subject to you being eligible for the fixed price you can pay for the charger and installation for just £599.
There's a three year warranty that you simply need to register into the app to start.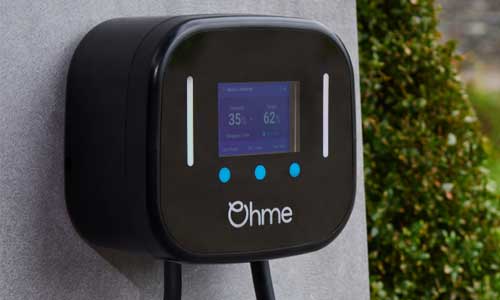 For more information on how we can help arrange your Ohme home charger get in touch here or give us a call on 01722 322 888.