March 11, 2021

Abby Nuttall

Electric and Hybrid News
A survey from the Society of Motor Manufacturers and Traders (SMMT) last Autumn revealed that nearly half of UK motorists didn't feel ready to make the switch to electric by 2035.
Since then, the UK government has moved forward the date for the ban on the sale of new petrol, diesel, and hybrid vehicles to 2030. This ban is designed to help the UK reach the target of net-zero carbon by 2050.
The survey, conducted by Savanta ComRes, shows that many drivers might not be ready to go electric, with 44% of those surveyed not thinking they'll be ready to go electric by 2035, and 24% saying they can't ever see themselves owning an electric car. 52% of respondents said they were put off by higher purchase prices, 44% were put off by a lack of local chargers and 38% said they were worried about not having enough mileage for longer journeys.
We're going to take a look at each of these concerns as well as other factors that you'll want to consider when deciding if you're ready to make the jump to electric as an individual or for your business' fleet.
Purchase Price of an Electric Vehicle
As mentioned above the purchase price is a concern for drivers looking to buy a new vehicle. Electric models tend to be slightly more expensive due to the technology involved in them.
However, as the electric market continues to expand, with many more models already on the way, and technology develops we will see the price between electric and petrol and diesel narrow.
Purchasing outright is not the only option that you have available to you. Whether you're looking for a private car or thinking of adding electric models into your business' fleet you could also look at leasing. This would give you the option to try a fully electric or even hybrid vehicle without committing to one permanently.
For a business fleet, it also reduces the initial cost of updating the fleet which can be expensive if you have a number of vehicles that need replacing.
Although the purchase price might be higher there are a number of monetary savings that an electric car offers including cheaper running costs and a number of incentives that are in place to encourage drivers to go green. Electric vehicles and even hybrids have much lower BIK rates, are commonly exempt from congestion charges in low emission and clean air zones, have very low if any road tax as well as being eligible for government grants on the purchase price and cost of installing a home charger.
Charging an Electric Vehicle
We recently posted all about charging an electric vehicle and what you will need to know about charging an electric vehicle. Take a look at the article for a more in depth look at charging.
Although finding convenient local charging points was one of the main concerns of those drivers surveyed it's actually a lot easier that you'd expect to find a charger. You'll find public chargers in a variety of locations including; motorway service stations, public carparks, shopping centres and even supermarket car parks.
Take a look at carwow's interactive map to see just how many chargers there are available in your area.
One way that many drivers combat charging concerns is to install a home charging unit, as home is where you spend a large portion of your time and you can charge the vehicle overnight without any inconvenience to your usual routine.
You will need to have off-road parking and either be the home-owner or have the permission of the home-owner to have the unit installed.
The government has extended their plug-in charger grant until 2022-23 and you are able to apply for this through the Office for Low Emission Vehicles (OLEV). The grant offers up to £350 off the cost of installing a home charging unit provided you meet the requirements, which include having off-road parking and the unit being installed by an approved company.
We are official partners of Pod Point and if you would like to discuss your home charging options or find out more information on this please give us a call on 01722 322 888.
If you are a renter or do not have off-road parking then there are still ways to charge the vehicle while you're home. More and more local authorities are installing residential public chargers for areas where off-road parking is less common.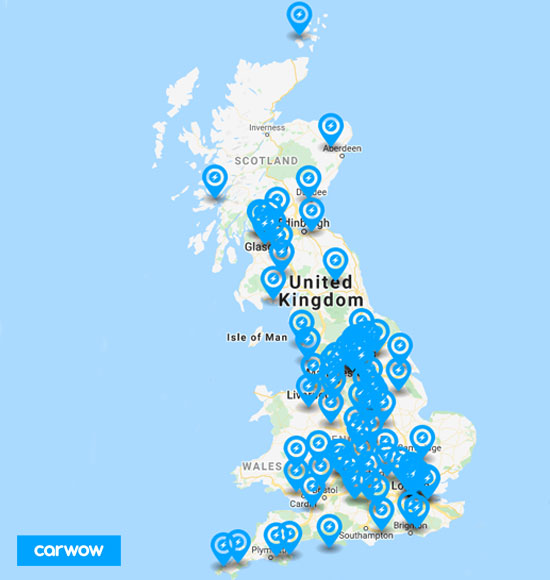 As well as providing home charging units and public chargers across the UK Pod Point are also able to install charging units for businesses so employees can also charge their electric vehicles at work. This is particularly beneficial if you are looking at adding electric vehicles into your business' fleet and want to mitigate driver's concerns about charging. For more information on this just give us a call on the number above.
Range Anxiety:
The third deterrent mentioned by the SMMT survey was range anxiety. This is one of the biggest concerns that we see for drivers looking at electric vehicles, whether the car will realistically be able to do the mileage they are used to without frequent, lengthy charging breaks.
We recommend thinking of your mileage not in terms of annual, monthly or even weekly but rather your daily needs. How many miles do you typically do in a day? This is because most people are able to charge their EV overnight whilst at home, or during the day while in the office so they typically only have to factor in daily usage on one charge.
The range of electric vehicles is improving all the time, with more and more models able to do over 200 miles on one charge, and this is only expected to grow as technology improves.
The expanding public charging network and introduction of rapid and ultra-rapid chargers that cut charging time in half for some vehicles also mean that if you do have to charge then you'll be back on the road as quickly as possible.
What Affects the Range of an EV?
When looking at the mileage it's important to factor in what will impact your range as well as it may not be realistic to expect to achieve the advertised maximum range all the time.
Things that can affect the range include:
Your driving style – softer accelerations and lower speeds use less energy and so the range will be better if you accelerate gently and aren't constantly travelling at high speeds. You'll also find that if you allow the vehicle to slow using regenerative brakes rather than harsh braking you'll recapture energy that is usually lost.
The road terrain – it takes more energy to travel uphill, so if you have a particularly hilly journey then you'll see you need to charge the vehicle a little sooner than usual. Most electric and hybrid vehicles recapture some energy through regenerative braking when going downhill as well.
The weather – batteries operate the best in the heat. Cold weather reduces the flow of electrons and so you will often find that your range is slightly less during the winter months.
The vehicle weight – the heavier the vehicle the more energy that is required to move it so the more passengers and heavier load you have in the boot the lower your range will be.
Use of heating, air condition and other non-essential features – using the heating or air conditioning systems uses additional power from the battery and so you might see an impact on the mileage range. However, this will be minimal and the use of radio, lights wipers etc will have normally have no visible impact.
The condition of the vehicle -
We recommend still carrying your usual passengers/load, as well as using features like the air conditioning as normal as these will not have a large impact on your range.
The thing that will have one of the largest impacts is your driving style so if you're particularly heavy on the accelerator or late on the brake then we'd suggest trying to alter this to a smoother driving style.
Are You Ready for Electric?
We hope that we've helped to alleviate some of the concerns you might have had about purchasing an electric vehicle with the above article but if you do have any further questions please give us a call on 01722 322 888 and we'd be happy to answer them.
Making the jump to electric is a big change, but as the automotive vehicle industry as a whole shifts towards electric motors we'll see more and more innovative technology widely available to help reduce any inconveniences caused by the change.
When deciding if electric is the right choice for you or your business there are a number of factors you'll need to weigh up from what kind of mileage you do, how you will charge the vehicle, the cost and financial benefits you'll be eligible for to name a few.
If you're looking at a business fleet and beginning the journey towards electrifying it then there are similar considerations you'll want to take into account, like how convenient it will be for your drivers to charge the vehicles at home or whether you'll also want to install chargers at the business address, how you'll manage the concerns of drivers over the mileage range and what kind of cost purchasing or leasing electric vehicles will have compared to other fuel types.
There are pros and cons to all fuel types though and if you would like to discuss your options then just get in touch and we'd be happy to help.
There are a lot of benefits to EVs and we've got a guide that explores them all. We've also taken a look at the benefits of a hybrid vehicle in case you're considering a hybrid before making the switch to fully electric.
If you'd like to find out more information on electric vehicles then take a look at this helpful guide we've put together here or this one for hybrids. There's also the article we mentioned earlier on charging as well as our dedicated Pod Point page which will give you more information about home charging.
You can always call us as well on 01722 322 888 if you have any questions or want to discuss anything we've explored in the article above further.