December 8, 2021

Abby Nuttall

Articles
If you are driving home for Christmas this year, you'll want to make sure that you feel safe, but which are the major roads that you should try and avoid? Following on from our look at the worst roads for speeding earlier this year, Wessex Fleet has taken a look at the most dangerous roads in the UK at Christmas time, so that you can be fully prepared for your journey.
We sent Freedom of Information requests to police forces around the UK asking for data on which roads have had the most car accidents in the month of December over the last 5 years (2016-2020). Here are the results.
A470 in South Wales Named as the Most Dangerous Road at Christmas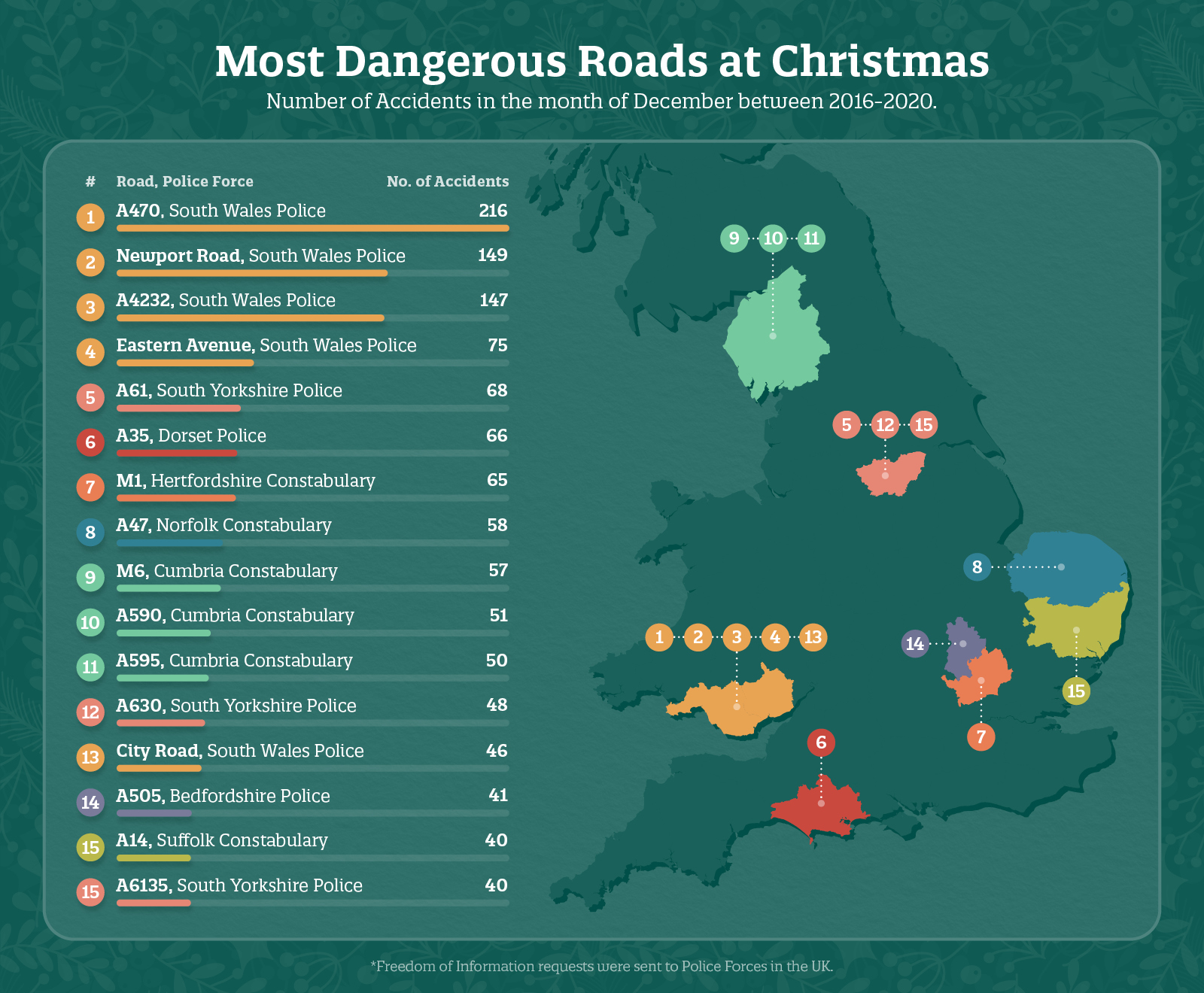 When driving through South Wales this Christmas, it might be a wise idea to try and avoid the A470 if at all possible. Although it actually came out on top in a 2014 survey to name 'Britain's favourite road', the A470 is statistically the worst for accidents in the month of December.
Also known as the Cardiff to Glan Conwy Trunk Road, the road is the longest in Wales and goes right through the middle of the country from Cardiff on the south coast to Llandudno on the north coast. A stretch of 186 miles, there have been 216 car accidents in the month of December since 2016 according to South Wales Police, the most out of all roads on our list.
It's not the only road from South Wales to feature heavily in our list either, as Newport Road in Cardiff is also up there with 149 accidents in December. A 4.7 mile stretch from the centre of Cardiff heading towards Newport, it often gets busy and had the most prolific speed camera in Britain back in 2014. With 1600 vehicles passing through every day, it's clear to see why accidents happen in the cold winter months.
The A4232 going through Cardiff also features high on the list, with 147 December accidents in the last 5 years.
Kent is the Most Dangerous Area Overall at Christmas
​​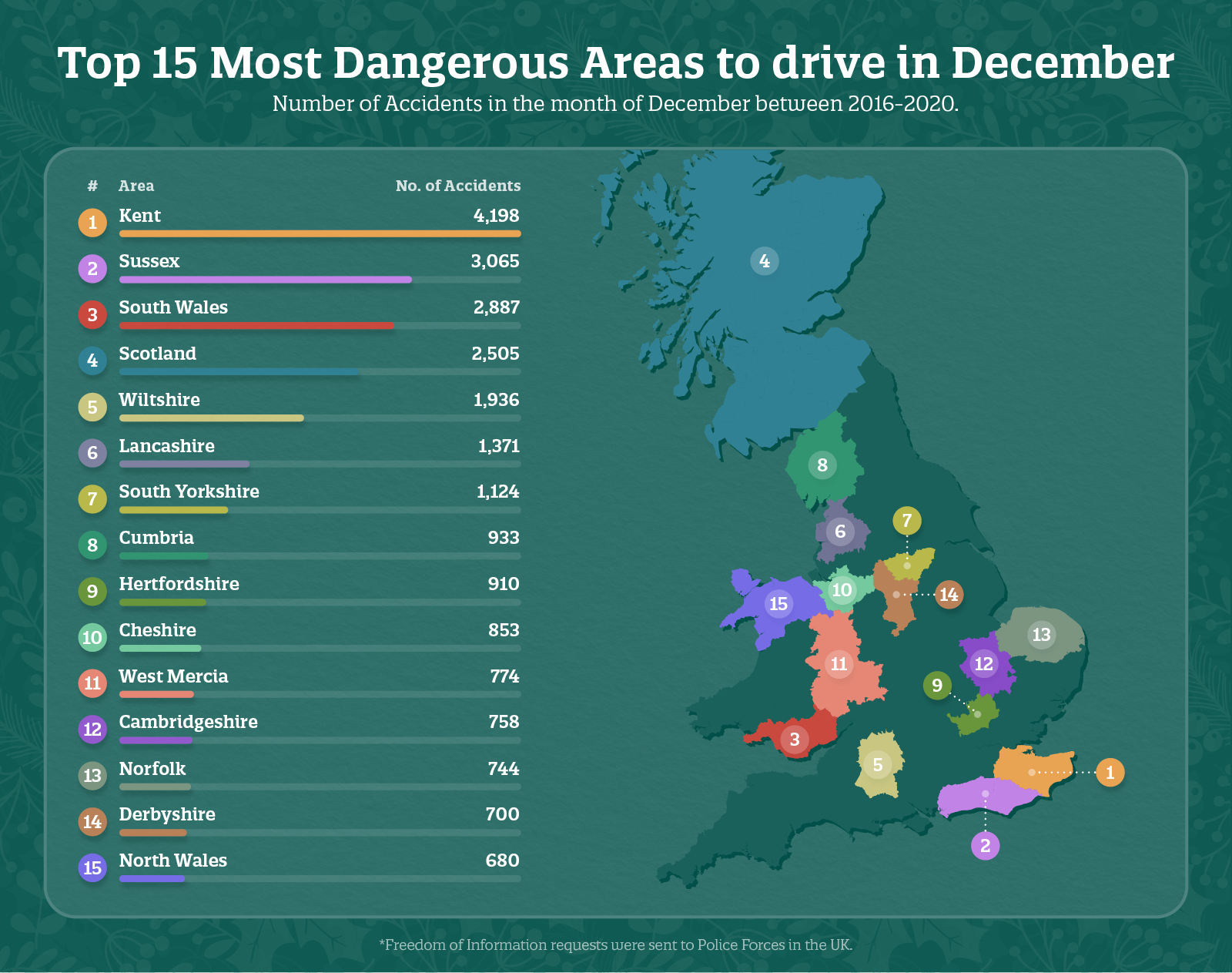 When it comes to an overall landscape, it was Kent that ended up far and away the most dangerous area to drive in during the month of December, according to the stats. There have been 4198 accidents on Kent's roads over Christmas in the last 5 years, way ahead of second-placed Sussex with 3065.
South Wales had the most dangerous singular road on our list, but as an overall area, it only places in third with 2887 incidents. Scotland may have a larger land area than the rest on the list, but they only placed in fourth with 2505 overall road accidents throughout the last five Decembers. Rounding out the top five is Wiltshire, the home of Wessex Fleet, with an overall December incident total of 1936, a large amount being thanks to the infamous A303 that passes Stonehenge.
City of London and Dyfed-Powys have the Least Incidents over Christmas
Bottom of the list was the relatively small area that covers the City of London, with 137 incidents in the last five years. Rounding out the bottom three were two Welsh areas, which is interesting considering that South Wales was in the top three. Dyfed-Powys, covering 3,360 square miles of central Wales, only had 244 incidents, while Gwent in the South East of the country had 258 accidents.
Cleveland in the North East of England, featuring the likes of Middlesbrough and Hartlepool, also had a relatively low number of incidents with 270. There was then a jump up to the next lowest, which was Dorset at 580 incidents.
Tips for Long Distance Driving Over Christmas
If you are to embark on a long-distance journey this December, make sure to follow these tips.
1. Plan Your Journey
If you are travelling a long way, or somewhere that you don't drive to often, it's extremely important to plan your journey.
This is for a number of reasons, but mainly so that you are aware of any potential issues you may find on the way, such as any roadworks that may have recently been started.
Any modern Sat Navs, or mobile devices with the likes of Google Maps, will highlight any issues you might run into on the way, and can reroute you if needs be for a quicker journey. Don't just try and wing it!
2. Make Sure the Car is Good to Go
Before starting the engine, you'll need to ensure that the car is fit and ready to take on the journey that you're about to go on. Set yourself a checklist of things to tick off.
This will include things like checking the tyre pressure, making sure you have a spare tyre, checking the headlights and windscreen wipers, and make sure you have antifreeze for if you need to defrost your windshield.
Other standard checks such as oil and fuel will need to be ticked off too. Packing warm clothes as well as a hat and gloves is also advised. Tips on how to care for your car in Winter can be found on the Wessex Fleet Blog too.
3. Be Wary of the Road Conditions
You'll need no reminder that Winter in the UK often means cold and sometimes freezing temperatures. If it has dropped to minus levels the night before, there's a big chance that the roads may be iced over and thus dangerous to drive on.
You may also encounter snow, hail, heavy rain, or high winds on your route as well, so be sure to check the weather forecast for all areas of your journey, not just the start and end points.
If the conditions are really bad, you should probably wait until a safer time. It's just not worth the risk.
4. Take Breaks or Swap Drivers
If it's a long journey you're embarking on, make sure that you have planned in breaks, preferably at service stations if you are heading down a motorway.
Tiredness can be a huge problem and could have fatal consequences in some cases. You'll also want to make sure you're well fed too, as hungry stomachs can lead to tired minds and bodies.
If you have the luxury of travelling with someone who also holds a UK driver's license and is insured to drive the same car, you can swap half way through the journey to give each person a rest.
5. Leave Plenty of Time After Drinking
It should go without saying of course, but some motorists do commit drink driving offences by accident, as they haven't left a long enough gap between their last drink and getting behind the wheel.
This is a particularly big problem at Christmas time when people are off work, there are plenty of social events and celebrations are ongoing. The amount of time between your last drink and being fit to drive will depend on how many you've had, but for reference around 5 pints of lager will need a gap of at least 12 and a half hours. Use a Drink Drive Calculator to work out your exact situation.
If you have been drinking the night before and you're unsure if you're fit to drive, you can do yourself and everyone else a favour by not getting behind the wheel.
6. Don't Leave Presents in the Car
If you're travelling to see family or friends, make sure to wait until you're ready to set off on the journey before loading the presents into the car.
Having any valuables on show in your car is a major risk, even if it is parked in your driveway or just outside of your house. If they're visible, it could encourage opportunistic thieves to break in and steal items, especially if they are of a high value.
This applies to when you make it to your destination too. We know the main focus is going to be on saying hello to your loved ones, but don't forget to unload the presents from the car straight away.
Director of Wessex Fleet, Simon Naylor, added: "While many drivers need to travel over the festive period for work, family or other commitments, it's important to be aware of the dangerous conditions that roads may be under during December and throughout the rest of winter. Check your car is safe to travel, if you aren't comfortable with this get a professional to check this for you. Make sure you take plenty of breaks when driving long distances, and keep an eye on the road conditions in wintery weather, only travel if it's safe to do so to help to avoid accidents."
Methodology
To highlight the worst roads in the UK for accidents over Christmas, we issued a Freedom of Information request to each of the 45 police forces in England, Scotland, Wales, and Northern Ireland. The request asked for all road accidents that occurred in the month of December between 2016 and 2020.
Although we didn't receive a timely response from all forces, the data gathered covers hundreds of UK roads and thousands of accident reports – overall we looked through 26,796 incidents.