November 18, 2022

Will Bullen

Articles
September saw a slight change to the law regarding using a mobile device when driving, to be stricter in offering zero tolerance for people who do so.
When you're out driving, one of the most frustrating things is seeing other drivers not paying attention to the road and using a mobile phone or another handheld device behind the wheel.
The law change inspired Wessex Fleet to take a deeper dive into which areas are the worst for using their devices while driving and which have had the least misdemeanors.
What are the Laws Regarding Using a Mobile Phone While Driving?
It's no surprise to learn that it's illegal to use a mobile phone, sat nav, tablet or any other device that sends or receives data while you are behind the wheel of a vehicle or riding a motorcycle. However, prior to September 2022, there was a disputed legal loophole.
September 2022 Rule Change
In September 2022, the law regarding using a mobile device while driving was altered slightly. 
The previous rule specified that the offence was for using a hand-held device for 'interactive communication'. The new rule states that the offence is triggered whenever a driver holds and uses a device, regardless of why they are holding it. 
The government stated at the time that the law was being updated to keep up with technology. As the previous law only stated 'interactive communication', it could have been argued that things like playing music, games or taking photos weren't technically 'interactive communication'. 
For example, a driver in 2019 was found 'not guilty' while filming a nearby road accident on their phone while driving, as they were not using the phone for 'interactive communication'. 
Now, the new law is triggered regardless of the reasoning behind the driver using their phone. 
What is the Penalty for Using a Mobile Device While Driving?
Drivers can be handed six penalty points and a £200 on-the-spot fine by holding or using a mobile device, while you can also lose your licence if caught in the first two years after passing your driving test.
Court summons may also be given to the driver, where you could be banned from driving and be given a maximum fine of £1,000. 
But which areas of the UK are drivers being caught out the most? 
Wessex Fleet sent Freedom of Information requests to all 45 police forces in the UK to ask for data on how many drivers have been caught using a mobile device while driving in their area since the beginning of 2018.
Scotland has Handed Out the Most Mobile Device Fines So Far in 2022
We requested a data breakdown for each year, including so far in 2022. The year has not been too kind on drivers in Scotland, as Police Scotland has handed out the most Fixed Penalty Notices for people driving while using a mobile device, with a total of 1,684. 
Kent is not too far behind with 1,095, while West Yorkshire rounds out the top three with 1,005. 
At the other end of the scale, Derbyshire Constabulary has been pretty quiet on the mobile devices front, only handing out 18 FPNs so far this year, while Gloucestershire Police has only given 53. This would suggest that drivers in these areas are better and more cautious than in other areas in the UK. 
When comparing the number of offences in 2022 alone to the population of each area, we found that the City of London were the worst for offenders with 130 per offence, thanks to their much smaller population number than the other areas. 
Lincolnshire also performed poorly on this metric, with 892 people per offence in 2022.
| Police Force | Most Fixed Penalty Notices in 2022 |
| --- | --- |
| 1. Police Scotland | 1684 |
| 2 Kent Police | 1095 |
| 3. West Yorkshire Police | 1005 |
| 4. Lincolnshire Police | 841 |
| 5. Staffordshire Police | 649 |
| 6. Avon and Somerset Police | 441 |
| 7. Surrey Police | 397 |
| 8. Lancashire Constabulary | 305 |
| 9. Sussex Police | 251 |
| 10. Nottinghamshire Police | 191 |
Metropolitan Police Have Handed Out the Most Mobile Device Fines Since 2018
The overall data we requested shows that it has been drivers in London that have been handed the most Fixed Penalty Notices (FPNs) since the start of 2018.
The Metropolitan Police has handed out a total of 21,421 FPNs in the Greater London area excluding the official City of London. 
Driving in the nation's capital city is notoriously difficult, but there's no excuse for ever using a mobile phone or another device while behind the wheel. 
London was a long way ahead of the next closest, which was Scotland with 10,614 offenders since January 2018. West Yorkshire (8,108), Merseyside (5,367) and Kent (5,247) were also in the top five worst areas.
But what about when population is taken into account? Well, it didn't make pretty reading for the City of London and Lincolnshire again, with 23 and 180 people per offence respectively when reviewing the data since 2018. 
Met Police and Police Scotland's areas were 10th and 12th when population was taken into account, with 420 and 512 people per offence respectively.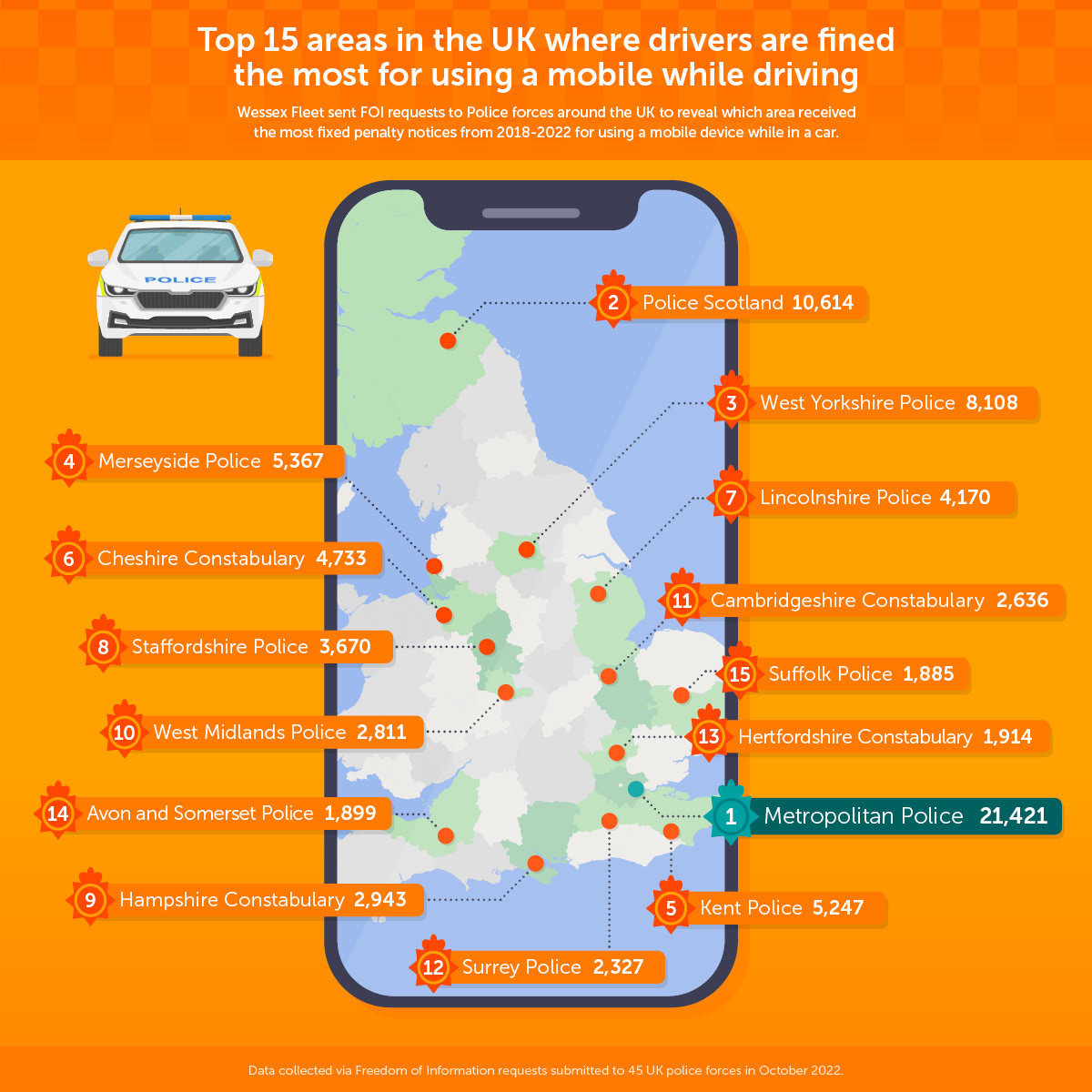 Drivers in South Yorkshire Mostly Stay Off Their Phones
When it comes to the areas with the least offenders, drivers in South Yorkshire were the most well-behaved and stayed off their mobile devices, with only 142 FPNs handed out in the last four years. 
North Wales is in second place with just 191 offenders, with the City of London (381), Cumbria (403), and Northamptonshire (507) completing the top five areas with the least offences.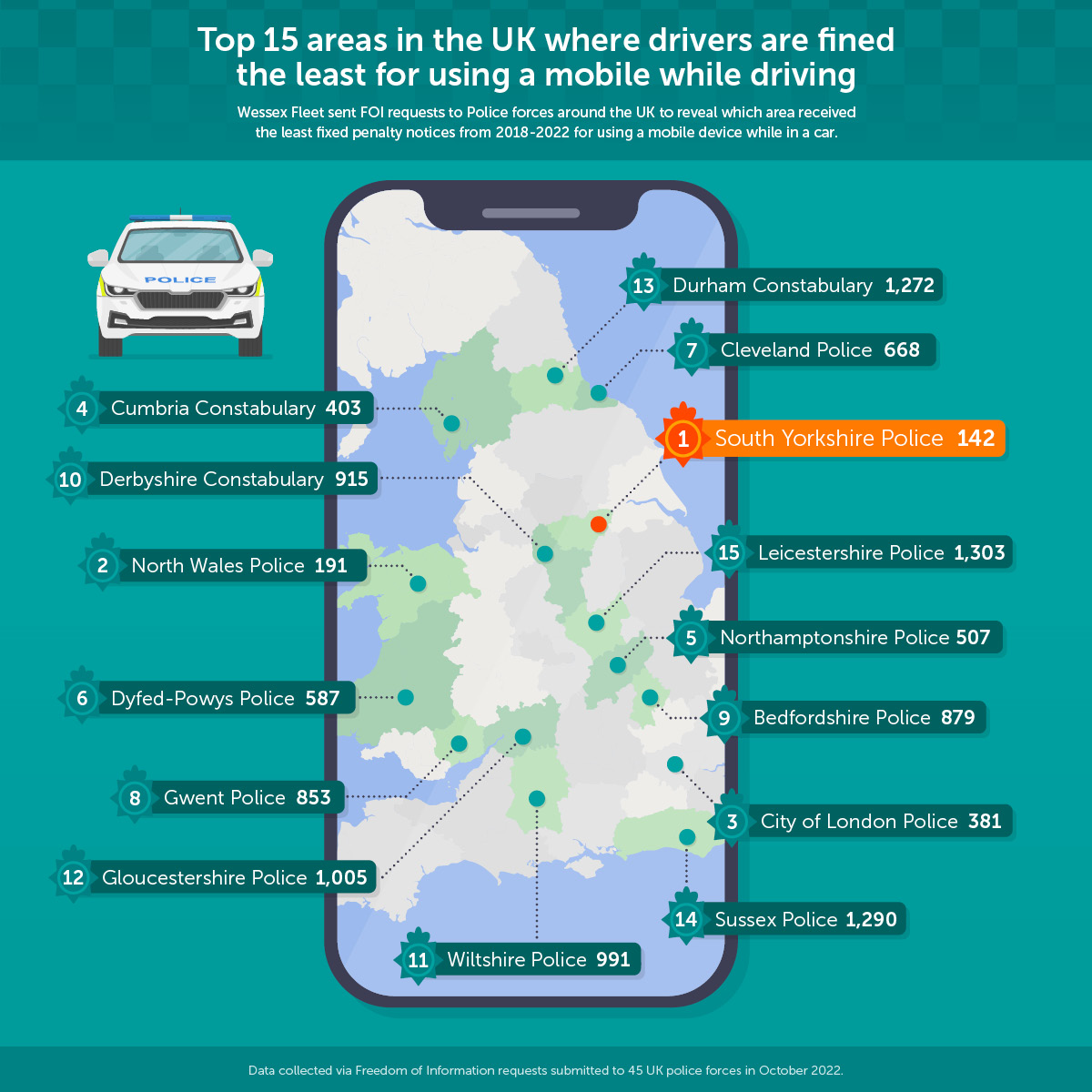 M6 in Staffordshire is the Worst Road for Mobile Device Offenders
Though not all of the police forces responded with specific road breakdown data as requested, for those that did we found that the stretch of the M6 motorway that goes through Staffordshire was the most notorious area for drivers being caught on their phones and other mobile devices. 
There have been 509 offences on this stretch of road since the start of 2018, which was 66 more than the next worst, the M20 stretch in Kent with 443 in total. 
Norfolk's A47 also passed the three-hundred mark, with 306 FPNs handed out on the road alone. 
| Road | Mobile Device Fixed Penalty Notices Since Jan 2018 |
| --- | --- |
| 1. M6, Staffordshire | 509 |
| 2. M20, Kent | 443 |
| 3. A47, Norfolk | 306 |
| 4. A2, Kent | 232 |
| 5. A20, Kent | 207 |
| 6. A14, Suffolk | 197 |
| 7. Seven Sisters Road, London | 174 |
| 8. Uxbridge Road, London | 151 |
| 9. Queens Drive, Merseyside | 147 |
| 10. Edge Lane, Merseyside | 129 |
It's important never to use a mobile device when you're in charge of a car or van, you can check the gov.uk website for clarity on what constitutes as being against the law. 

Simon Naylor, Director of Wessex Fleet added: "It's imperative that drivers aren't using a mobile device while behind the wheel, as it's incredibly dangerous. Distractions like these can cause accidents, as well as land you a fine and points on your license. There have been over 6,800 fines this year collectively, just from those police forces in the top 10 of our research. With stricter policies now in place, It's important drivers keep up to date with any  Highway Code changes that have come into place this year."
Methodology
For the purpose of this study, we sent Freedom of Information requests to 45 police forces from around the United Kingdom. In this request, we asked for 'the number of drivers fined for using a mobile device over the last five calendar years, as well as the road/location of these drivers, if known'. 
Though not all police forces responded or refused the data, 36 police forces responded out of 45.  These then determined which areas of the UK are the worst for drivers using mobile phones and other devices while behind the wheel of a car.
 
---
Enjoyed this article? Read more of our latest blogs below:
Want to know more about fleet vehicles?
For all our latest news and blogs click HERE.
Or are you looking to understand the company car, fleet management or any other aspect of fleet vehicles? If so, then check out our Guide Pages.