November 10, 2022

Abby Nuttall

Articles
We recently wrote about the challenges of fleet management one of which was keeping to a budget. This is a particularly nuanced challenge because of the variable and unpredictable costs involved in maintaining and running a fleet of vehicles.
In this article we'll look at three areas that could save your business money on your fleet which are:
Save Money on Your Fleet's Fuel
One cost that you will always have with a fleet of vehicles is the cost of fuel. As fuel costs are variable it can be difficult to budget for and are out of the drivers' or business' control it's one area that's critical to minimise spending.
Traditional fuels, petrol and diesel, have risen in cost over the past year and are not expected to come down now they have stabilised.
If you have a fleet of older vehicles then one way to improve fuel consumption is to update the fleet. Newer models have better fuel economy and technology which allows drivers to monitor their consumption and the impact their driving habits have on it.
Alternatively, you could electrify the fleet as charging an electric car is much cheaper than filling up a petrol or diesel model, even if you have to charge multiple times to get the same mileage range.
Both of these options do require investment in the fleet with the purchase or hire of new vehicles but in the long run they will save you money on fuel, and this can be done as part of the overall fleet improvement strategy as you will usually need to update older models to save on costs in all areas.
Impact of Driving Style on Fuel Economy
The way that your drivers actually drive their vehicles can have a significant impact on the fuel efficiency of a vehicle. Heavy acceleration and braking requires more power which means more fuel is burnt in the process and reduces the vehicle's fuel economy. Other habits that can reduce a car's fuel economy include idling, poor route planning and speeding.
To help improve your fleet's fuel economy we recommend providing all employees with a training session on the best practises for them to follow and support them with any follow up questions they may have.
You might also want to invest in telematics systems that will help you monitor driving habits so that you can see any repeated behaviour that could be impacting fuel efficiency and offer additional support to these drivers.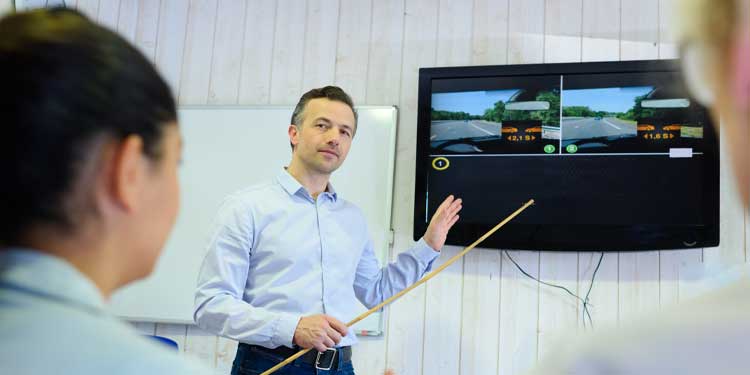 If you offer your employees fuel cards then you can also utilize reporting on these in order to spot any vehicles that use a lot of fuel and look into why this might be. A few common reasons include:
Driver covering a long distance – a fix for this could be to get them a new vehicle with better fuel economy or switching to an EV if suitable.
Driver habits leading to higher fuel consumption – this may require additional training or support in order to help them improve their driving style.
Maintenance issue with the vehicle – keep up with maintenance work and complete any repairs that could be causing higher consumption.
Reducing Fleet Maintenance Costs
Another area where expenditure is difficult to predict and can be quiet high is vehicle maintenance. This includes regular maintenance, servicing, MOTs and any other repairs that may be needed.
It is essential that servicing and MOTs are completed on schedule and that any regular maintenance is completed as it is needed to keep the car road-worthy and reduce any further work that may be needed as a result of poor maintenance.
We recommend that you get the drivers to complete regular checks of the vehicle at lease once a month as this will help detect any issues quickly after they arise so that repairs can be completed promptly. The driver will be the person who is the most familiar with the vehicle's condition so having them complete the checks will make sure that any new issues are spotted as well as encourage a greater sense of personal responsibility in the driver for the vehicle.
It's not just the costs of repairs but also the cost of having the vehicle off-road whilst the work is completed and then if needed keeping that driver mobile as well which quickly adds up.
We've already mentioned newer vehicles can help reduce costs due to better fuel economy but they can also help reduce maintenance costs as well. Newer vehicles will have covered less distance and so have less wear to them meaning less work is needed. There have also been advances in the technology and materials used which helps lower costs.
Impact of Driving Style on Maintenance Costs
The driver's habits will also have an effect on the maintenance costs of their vehicle and poor driving can lead to having to replace wearables more regularly and even costly repairs. For example, harsh braking wears the brake pads and tyres down much faster than driving at consistent speeds.
We recommend including in your driver training some details on best driving practices that will not only help improve your spend on fuel and maintenance but also keep them safe on the roads.
Just as you can with fuel economy you can use telematics to monitor and provide additional support for drivers where poor driving habits could be increasing maintenance spends.
Minimise the Cost of Fleet Administration
The third area where you can save money in your fleet is in the administration side of it, including:
Arranging breakdown assistance when needed
Accident management
Scheduling servicing for all vehicles
Scheduling MOTs as needed for all vehicles
Arranging maintenance and repair work as needed
Managing
Moving pool vehicles between sites if needed
Managing fuel cards
Ordering and distributing driver equipment such as foreign travel packs, fire extinguishers and first aid kids
Managing installation and removal of telematics equipment
Reporting based on telematics, fuel cards and other vehicle based data
Sourcing new vehicles
Arranging collection and sale, if needed, of vehicles no longer needed
Onboarding and offboarding drivers
Driving licence checks
Arranging driver training and managing uptake of this
Answering any driver questions that arise
These are just some of the ongoing admin tasks that a fleet management team are responsible for and doesn't include the fleet policy planning. Looking after all of these elements takes a lot of time and often requires a team of employees especially if you have a large fleet.
One way to reduce the cost of this department is to use a fleet management company like Wessex Fleet to manage some or even all of these tasks. This will not only save your business time and money but will also reduce the pressure on your internal fleet management team allowing them more space to look at the larger picture including fleet policies, goals and strategic changes.
---
Enjoyed this article? Read more of our latest blogs below:
Want to know more about fleet vehicles?
For all our latest news and blogs click HERE.
Or are you looking to understand the company car, fleet management or any other aspect of fleet vehicles? If so, then check out our Guide Pages.