We know that part of managing a fleet involves finding short-term solutions when a driver is without a vehicle, or it's impractical for them to use a company car or their personal one, which is why we believe that rental vehicles can be a great tool for you to utilise.  We've put all the key information into this helpful guide so you can see how you might use car rentals within your fleet.
What is Car Rental?
Car rental is simply when you use a car for a short period of time and pay the rental company for the use of it.
Having access to rental vehicles is a great solution for business fleets as there are many occasions when your drivers may be in need of a vehicle for a short period of time where it might otherwise be impractical or difficult to arrange one.
Renting a car can be less of a commitment than a lease as you do not have to agree to have the vehicle for a set period of time and will not usually need to pay a charge to hand the vehicle back (unless you have agreed to a long-term rental arrangement where there might be a small fee).
Car rental is much more flexible and you can often agree to keep a vehicle on a rolling basis, paying a daily rental charge, or if you know it will be needed for a set period of time you might find it cheaper to agree to a fixed sum for the duration.
When Would My Business Need to Rent a Car?
We mentioned above that there are occasions when renting a car rather than putting a driver into one of your existing vehicles or waiting for a more long-term vehicle solution to be arranged, to help you understand when they might arise. Here are five of the most common circumstances we encounter:
1. You've employed a new member of staff and are waiting for their company car to arrive with them but need to keep them mobile until then.
2. A driver is visiting another town or city for a business meeting, it is quicker / cheaper for them to get a train to the location but they need the freedom having their own vehicle once there will provide.
3. An existing vehicle has been involved in an accident or needs some maintenance repairs and you are unable to arrange an alternative vehicle via other methods.
4. A lease vehicle has been returned to the funder as it reached the end of its contract period but the replacement has not yet been delivered and you need a stop gap that can be returned with little notice.
5. You need a vehicle for a specific job but will not need it beyond then so do not want to invest in leasing or purchasing it.
There are many other reasons that you might find yourself looking for a rental vehicle but these are some common situations that we encounter with our clients.
How Does Business Car Rental Work?
Whether you are renting for your business or personal use the process is fairly similar so if you've ever hired a car for a holiday or short term vehicle solution then you'll know how it works. You request a vehicle for hire and then arrange to collect it or for it to be dropped off to you and use the vehicle until it's time to return it. 
If you want to discuss how car and van rental will work for you then please give us a call on 01722 322 888 and our Rentals Team will be happy to help.
Benefits of Car Rental
There are many benefits to using a rental vehicle for short to mid-term vehicle solutions within your fleet, including:
The ability to have the vehicle for a flexible time period from as little as a few hours to several months on end
Being able to receive the vehicle at short notice
And to return the vehicle with little notice
Convenient pick up / collection locations around the UK
Generally, you're not tied into a contract to keep the vehicle beyond your need for it
There's no depreciating asset on your books
You don't have the responsibility of maintaining and servicing the vehicle
If you are renting the vehicle for a set time then you can often get better rates than daily rental prices
Things to Consider with Rental Vehicles
Although there are many benefits to utilising a rental vehicle there are also aspects that you need to be aware of and accommodate for.
For example, if you are looking for a more long term solution and know you will need the vehicle for over 18 months then a lease agreement may better suit you with potentially cheaper prices and the ability to select the specific vehicle make and model.
With a rental car you can choose a category of vehicle but not the specific model, as this can't always be guaranteed to be available when you want it or for the duration of the time you require it. This means there may not always be the convenience and safety features that your drivers are accustomed to.
You may decide to take out additional products such as rental insurance, which provides a higher level of insurance coverage than the basic insurance most vehicles are supplied with.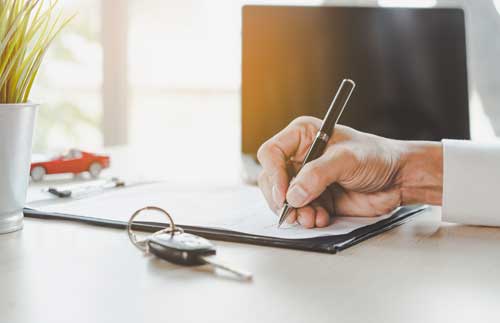 A rental vehicle will need returning to the rental company and when you do so it will be inspected for any damage, excessive wear or fault due to driver negligence and so depending on how the vehicle has been cared for whilst with your business you may receive additional charges.
Is Car Rental the Right Option For My Business?
Only you can decide if car rental is the right choice for your business, but if your fleet is managed by Wessex Fleet or you would like to discuss your options then our team is always on hand to make sure you have all the information you need in order to make an informed decision. 
We find that car rental is a useful funding method for short-term vehicle needs and is a great tool to have in your fleet management box, but is most effective when used as part of a larger fleet policy and combined funding strategy for it.
What Are the Alternatives to Car Rental?
As well as car rental we recommend looking at more long-term funding methods including car leasing and outright purchase. These are two great alternatives if you are looking to create a more permanent fleet and can be used in combination with rental vehicles to get the right balance for your fleet. 
Wessex Fleet Car Rental
Here at Wessex Fleet, we are able to provide our business clients with a straightforward and easy to use rental solution for their business.
We're here to help with your rental needs whether they're short-term daily vehicles around the country or a longer monthly rental.
As we work with all of the UK's main rental suppliers we are able to supply vehicles to customers around the UK with access to over 550,000 at three hundred locations and can usually arrange a rental car within two hours.
We have an easy to use online booking system which has been designed to make it as quick and simple as possible for you to get the right hire car for your needs. We will set you up on this system once you are a Wessex Fleet rentals customer and our Rental Team are also available to help you on the phone.
If you'd like to learn more about arranging business car rental with Wessex Fleet then please get in touch on 01722 322 888 or request a call back here.
Which Cars Can I Rent from Wessex Fleet?
Here at Wessex Fleet, we work with a number of large national vehicle rental providers as well as having our own fleet of rental vehicles available. This means that we can arrange rental of nearly any vehicle you want - from a Smart ForTwo all the way up to a 17-seat minibus and everything in between! For our corporate clients, we're also able to arrange rental of more specialist vehicles including refrigerated vans. 
To learn more about how we can help you head over to our Rental Vehicle homepage.
Can I Take a Rental Car Abroad? 
Yes, your drivers can travel abroad with a rental vehicle but there are a few extra steps that will need to be taken to arrange this. You will need to contact us in order to arrange additional documentation, like the VE103 which proves your right to use a vehicle, and there may be additional insurance requirements.
We recommend contacting the rental provider at least a week or so before you travel to make sure everything is in place before your trip.