What is a Food Van?
A food van, also known as a food truck, differs from a regular or fridge van as it contains a food preparation and storage area instead of a traditional cargo space, and there will usually be a serving hatch in the side of one on the rear panels.
Whereas the main purpose of a van or fridge van is the transportation of goods, the primary use of a food van is to serve these goods directly to customers.
Food vans can be tailored in order to suit a specific business' needs, including the facilities provided. Some businesses will be selling cold goods and so need more display units and chillers whereas others might prepare hot food in the vehicle and need a hob to do so.
There are many benefits to operating a food van and these include:
Low overhead costs
A portable business
Flexibility over location, customer base and product sold
You will need to bear in mind that a food van is a smaller space to operate in, so the number of staff you can have working there and the goods that you can store and prepare will be reduced compared to a traditional space. Similarly, you will not usually be able to provide seating or bathroom facilities which can reduce the cost you can sell goods at, as well as the customers you attract.
Who Needs a Food Van?
The most common and classic example of a food van in the UK is the ice cream van.
However, these days it's not just people's favourite frozen treats that are sold from food vans. Many businesses choose to operate a food van instead of or alongside a traditional restaurant or café in a building.
You'll see food vans of all kinds from those selling sandwiches and small refreshments to ones selling a full roast dinner and everything in between.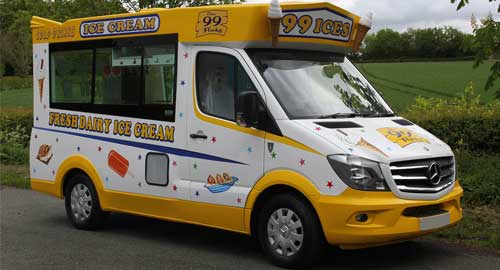 Sourcing a Food Van
There are three main methods of sourcing a food van depending on what you are looking for and these are: buying, leasing and renting.
There are a number of factors that will go into deciding which is the right option for you not just how long you are looking to keep the vehicle for.
You'll want to consider:
What kind of equipment you need and whether this comes as standard
What type of food you will be serving and the storage / preparation areas you will need for this
Any modifications you need to make to the vehicle
The exterior size of the vehicle and whether this will fit where you plan to park it
The interior size and whether this will be enough space for your staff
The number of people that will be manning the vehicle
The fuel type
How you will power the vehicle
Your budget for the vehicle
Whether it needs to be a refrigerated vehicle or not
All of these factors will influence the method you choose to source the vehicle.
If you want to lease a food van then you might want to take a look at this guide to van leasing.
Wessex Fleet can help you source a food van if you are looking to add one to your fleet. For more information on how we can help just give us a call on 01722 322 888.
Is It Better to Buy or Rent a Food Truck?
The answer to this entirely depends on what you are using the van for and how often you do so.
If you only need one for short seasonal periods of time then you might find it is more cost-effective to rent a vehicle as and when it is needed. Alternatively, if it is being used regularly throughout the year then it will likely make more sense to own the vehicle yourself.
Food vans that you can hire will usually be equipped with basic or multifunctional equipment so that the rental company can maximise their profit, depending on the food service you are providing you might need more specialist equipment than a rental is able to provide you with. If you need a particular layout or equipment then even if you do not use the vehicle regularly then you may want to invest in a food truck that you can customise to your specific needs.
Food Van Licences

Firstly, you'll want to register the van with every local authority at least 28 days before you plan to trade in the area.
If the van will be handling meat, fish, eggs or dairy products then it will need to have a health and safety inspection from a council representative.
In order to serve food from a food van you will need a street trading licence, which will allow you to legally trade in the area. The cost of this will vary between local authorities. If you are planning to use the van in multiple locations then you will need to apply for multiple licences.
It's also recommended you get a food hygiene certificate for the vehicle, though this is not currently a legal requirement it does show you can handle food and drink responsibly which is required by food safety regulations.
For businesses planning to cook hot food using gas appliances they will also need to obtain a commercial gas safety certificate that confirms all your gas appliances and equipment are safe and fit for use. All gas appliances must also come with a CE marking and flame failure device.
We recommend consulting a lawyer to ensure you have the correct licences and your business meets all of its legal requirements for the vehicle.
Cost of Operating a Food Van
If you are looking at operating a food truck then there will be a number of costs that you will want to factor into the business plan other than the purchasing / rental price of the vehicle and cost of trading licences.
These are the regular payments in addition to any upfront costs for equipment, modifications to the vehicle, and produce purchase costs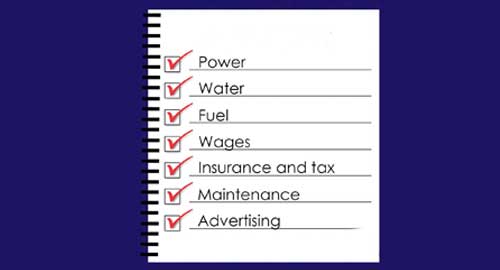 The main regular costs you will need to factor in are:
Power: the cost of your gas and electric bill will vary depending on the size of the van and the appliances you use.
Water: You will need water for cleaning as well as producing products and so you should consider how you will source this and the cost of it.
Fuel: the fuel bill will vary depending on how far you travel in the vehicle and the distance between your planned serving spots.
Wages: You'll also need to consider how many staff will operate the food truck, if they are in addition to your current staff the additional cost of their wages.
Insurance: You will need to insure the vehicle as both a vehicle and a business and ensure that the vehicle and your staff are fully covered.
Road tax: Unless you are leasing, where the funder will cover the road tax, you will also need to pay road tax on the vehicle annually.
Maintenance: Not only will you have the cost of maintenance of the vehicle, but also the equipment in it which will be constantly used and so age quickly. You will need to factor in the maintenance of both parts of the vehicle into your budget.
Payment system: Unless you plan on being a cash only operation, which is very rare in the contactless era we are currently in, you will need to think of how you will take card and contactless payments. This may need additional software, a card reader or full sales terminal.
Additional marketing and advertising costs: Depending on whether the food truck is your only source of income or an additional revenue then the marketing and advertising costs may be incorporated into your current spending budget, with a reduction for other areas of the business. Otherwise, you will need to work out what you want to spend on marketing for the new food van.
Food Van Maintenance
Just like any other vehicle a food van requires regular servicing and maintenance to ensure it is in top running condition.
It will require regular maintenance like checking the tyres, ensuring the fluids are at appropriate levels as well as servicing in line with the manufacturer's recommendations.
There may be additional wear because of the van's purpose, and we recommend getting any damage or work needed is completed as soon as you are able to in order to avoid further wear or damage.
Wessex Fleet can help you manage your maintenance with one of our fleet management packages. If you would like to find out more about the services we can offer, and how we can help spread the cost of maintenance for your entire fleet then please give us a call on 01722 322 888.
Equipment Maintenance
Most businesses include the following equipment as part of their essentials. These are not all necessary depending on the type of goods you are producing and selling but give a general idea of what they can include.
A sink with a draining board
Grill, fryer, stove, or oven
Catering urn for boiling water / coffee
Fridge and freezer
Extractor fan
Lighting
Fire safety equipment
Storage units
Safe waste disposal units
Hygiene clothing for employees
Serving equipment
Protective screen for ordering window
Some of these require more maintenance than others for example serving equipment and hygiene clothing usually only require thorough cleaning and if they receive major damage they will then need replacing. Whereas a fridge freezer unit requires more regular maintenance to ensure it remains at a consistent temperature.
Similarly, a stove or electric oven might require more regular maintenance work to keep them in top running condition, especially if you are constantly using them to cook.
We recommend ensuring that any necessary maintenance is carried out as soon as it is needed on the equipment in your van to prevent more work further down the line.
Food Truck Fleet Management
Just like any other vehicle in your business' fleet there will be an element of admin management for food trucks. You can manage this internally or use a dedicated fleet management provider, such as Wessex Fleet, in order for them to look after the vehicle for you.
Fleet management is a great option for businesses with a number of vehicles as it saves your business time, money, and stress. Find out how Wessex Fleet can help you today!
Why Choose Wessex Fleet for Your Food Van Needs?
Wessex Fleet are here to help you with every step of your food truck needs, from finding the right vehicle, customising it if needed, and then looking after the admin and maintenance side for its lifetime with your company. Give us a call on 01722 322 888 to find out how we can help you.
For more information on sourcing vehicles for your business' fleet click here to head back to our business guides homepage. for more helpful guides on vans and much more!