This guide is designed to help businesses understand what a fridge van is, how it works and how you can find the right one for your business.
We've also got a guide for companies looking for food vans specifically, but as a fridge van can carry more than just food we've put together this guide for all businesses.
What is a Fridge Van?
A refrigerated van, also known as a fridge van, is one that provides a cooler environment in order to store goods at a lower temperature to the external weather.
There are two types of refrigerated vans: chiller vans and freezer vans.
They both work in a similar way to a stationary refrigeration unit and use similar technology to absorb heat in an insulated and airtight compartment and dispose of it outside the vehicle to provide a consistent, cool temperature for your goods.
They are able to create an environment of up to -25 degrees depending on the level of insulation and type of van you opt for. A refrigerated van will work to keep a constant temperature in the cargo compartment to ensure your goods are not affected by unstable temperatures.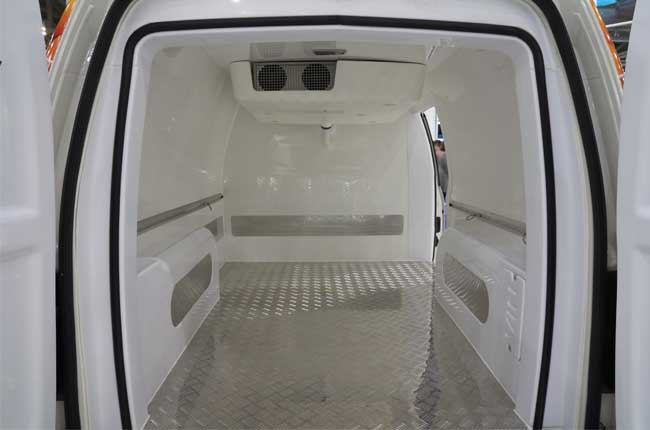 The refrigerated section of the vehicle usually uses a direct drive system with a compressor bolted to the side of the engine to power the refrigeration unit whilst the vehicle is running.
Some vans can also come with an additional power source, with a mains driven standby compressor. This allows you to pre-cool the space, additional storage or as an onsite storage facility for businesses like a catering vehicle. This is a good option for companies that are looking to ensure goods remained chilled or frozen when the vehicle is stationary.
Who Needs a Fridge Van?
There are a lot of different sectors where businesses might require a fridge van, including:
Catering firms
Drinks companies
Ice cream companies
Meat, poultry and fish companies
Chilled / frozen food transportation companies
Pharmaceutical companies
Florists
There are regulations for some of these industries on the temperature that their goods can be transported at which must be strictly adhered to. This makes it especially important to have a fully functioning and properly operating refrigerated vehicle.
If you're unsure whether your business needs a refrigerated vehicle or have questions about the type of vehicle you need then please give us a call on 01722 322 888.
The Different Types of Refrigerated Vans
When looking for a refrigerated van you should be aware of the different types available and how they work so that you can choose the best kind for your business.
The types of van you might see advertised when looking for a refrigerated vehicle include:
Insulation Only Van
An insulation only van has a thick layer of insulation in the loading bay, which is usually made from thick Styrofoam or polystyrene.
This type of van does not have any refrigeration system, though the insulation helps keep the rear of the van at a consistent temperature.
It will not be a suitable van for transporting perishable goods but would be a good choice for a business such as a florist who don't need their goods to be kept at very low temperatures.
Chiller Conversion Van
A chiller van uses a similar thick layer of insulation to line the goods compartment but also has a chiller built into it in order to allow you to store goods at a low temperature.
They will usually offer you a range of zero to eight degrees that you can set your temperature to and will keep the interior of the fridge van at this temperature for you.
A chiller conversion van is a great choice if you are transporting goods that need to be kept at a low temperature but not sub-zero. It makes a good option for chilled food transportation and supply companies, as well as those who transport some medications.
Semi-Freezer Conversion Van
A semi-freezer van requires a much thicker layer of insulation in order to maintain the freezer unit temperatures, and you should bear this in mind when considering if the dimensions are suitable for you and focus on the ones that include the insulation in the calculations.
It also has a freezer unit that can provide temperatures as low as -15 degrees making it a great choice for businesses who need to transport frozen food.
There are also additional features like a defrost cycle that allows you to defrost goods quickly and while on the move.
Full-Freezer Conversion Van
A standard full-freezer conversion will have an insulation layer of 75 mm thick insulation which allows it to achieve temperatures of up to -20 degrees.
You can look for a van with thicker insulation, of around 100 mm to achieve temperatures of -25 degrees, and a specialist heavier door to prevent temperature fluctuation.
A full-freezer van will allow you to transport goods that need to be kept at very cold temperatures and that you may need to defrost rapidly, making it a great option for businesses who supply food to the hospitality sector.
Which is the Right Choice for My Business?
The first thing we recommend doing is making a list of your needs from your refrigerated vehicle as this will determine what kind of fridge van you need. We've included a list below of helpful questions to ask when looking at sourcing a new vehicle and some of these will highlight your needs as well.
As part of this, you should consider whether you need a refrigerated van at all and if you do how many your business will need and what kind level of refrigeration you want.
The next thing we recommend is working out how long you need the vehicle for. If it is only for the short term would you be looking for a rental, or if it's for seasonal periods would rental or leasing / owning the vehicle makes more sense for you? Even if you plan on having the vehicle for a longer period of time you'll want to consider whether you want to own the van or would prefer to lease. You can find out more about the different methods of vehicle supply here.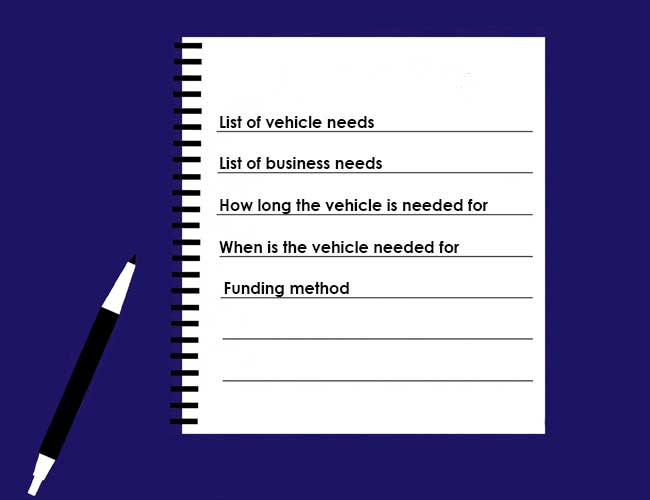 You should also consider when you will need the vehicle for, as fridge conversions can take some time to be completed which will be added to the lead time of the vehicle from the factory to arrive in the UK.
Considerations You Need to Make When Looking at a Fridge Van
When you are considering adding a new vehicle, whether it is refrigerated or not, to your fleet we recommend asking yourself these five questions:
How will the vehicle be funded? Will it be an outright purchase, finance plan or lease?
What size of vehicle do you want?
How quickly do you need to receive the vehicle?
What fuel type do you want for the vehicle?
What are the typical maintenance costs? Do we want to invest in a maintenance plan?
For a refrigerated vehicle you will also need to consider:
What temperature do you need your fridge van to be?
What will the van be carrying?
What size cargo space will you need for the goods?
What payload will your van need?
What wheelbase will you need on the ban?
How many deliveries will you be making on a drive?
At loading / unloading points how long will the refrigerated doors be open?
Any other modifications or particular specifications you need?
If your business is based or your vehicles frequently travel in and out of London or another city that is introducing a low emission or clean air zone then you'll want to factor this into your decision on fuel type, engine and vehicle size.
Fridge Van Maintenance
One of the most important things that you need to do for a fridge van is to ensure it is regularly serviced and calibrated. As mentioned above it's critical for most users of refrigerated vehicles to keep them at a set temperature in order to comply with legal and industry regulations which is why it's crucial that they receive regular servicing and calibration.
For more information on general vehicle maintenance just click here.

Why Choose Wessex Fleet For Your Fridge Van?
At Wessex Fleet, we can offer you anything from a small Berlingo or Connect sized refrigerated van, through Customer and Crafter size models all the way up to a Luton fridge van with a tail lift. We work with leading suppliers and converters in order to provide you with a refrigerated vehicle that fits all your needs.
We can also support you with maintenance and vehicle checks for them through a tailored Wessex Fleet maintenance package, which will reduce the risk of potential breakdown of your vehicle at inconvenient times.
For more information on how we can help you source and manage fridge vans for your fleet just give us a call on 01722 322 888 or contact us here. You can also take a look at our guides to all things van or our van leasing guide.