June 3, 2021

Abby Nuttall

Articles
With 45 police forces governing the UK, each with hundreds of thousands or even millions of citizens to serve and varying terrains, we wondered how suited to the task their vehicle fleets are.
To get a true scale of policing in the UK, Wessex Fleet issued Freedom of Information requests to determine the size of each authority's vehicle fleet and compared the figures with the area and population covered.
City of London Police is far and away covering the most ground
With only 39 vehicles but covering just a single square mile, City of London Police covers the most ground. As an equivalent figure, the force would have almost 4,000 vehicles (3,885) for every 100 square miles.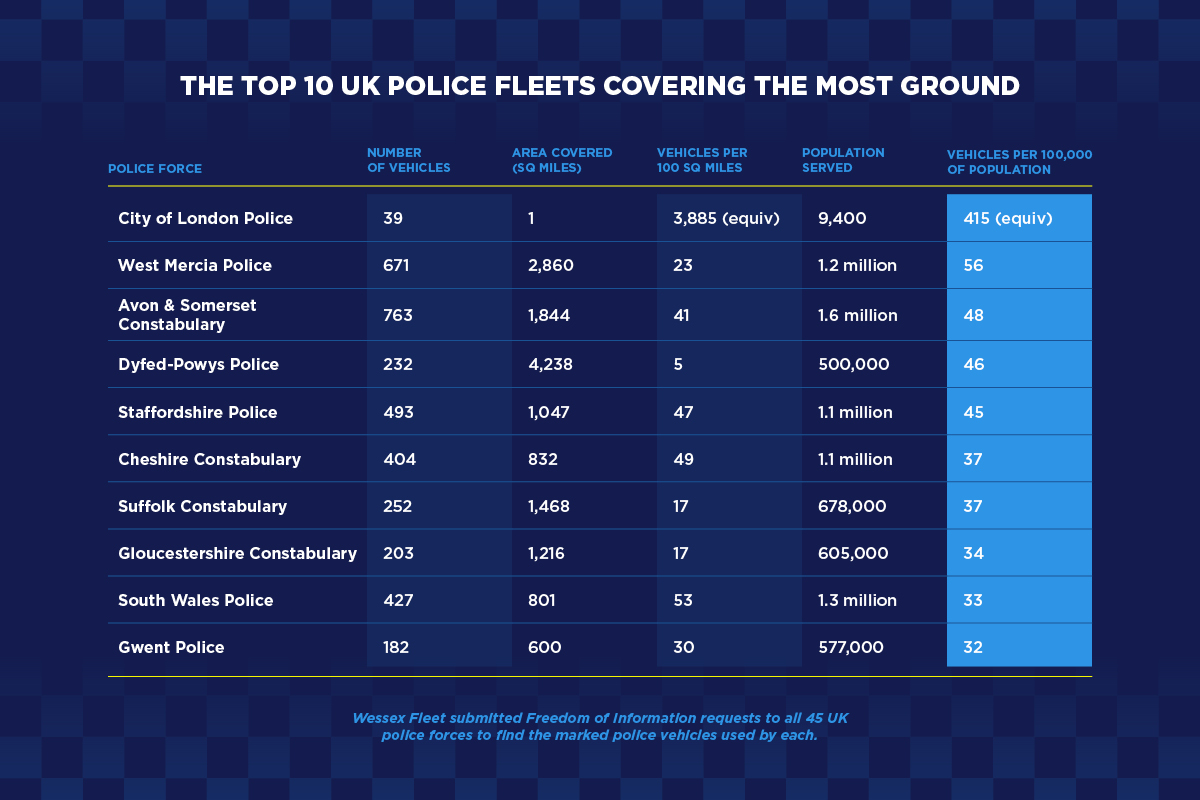 And seeing as the population count is only 9,400, the capital's central police team has an equivalent 415 vehicles for every 100,000 of the population – we calculated the equivalents in line with the other forces to give a true representation of policing resource.
However, with City of London Police also serving a huge number of commuters (estimated at almost half a million every day) and tourists, their work isn't as straightforward as it might seem.
West Mercia Police manages second overall, despite having the second-largest area to cover (2,860 sq miles) and third-largest population to serve (1.2 million), and finishes a few spots ahead of Dyfed-Powys Police, the force with the largest region in the top 10 – 4,238 sq miles.
Just missing out on the top 10 was Police Scotland, responsible for 30,414 square miles and 5.4 million citizens. Despite its 1,715-strong fleet of marked vehicles – the largest in our research by almost 1,000 – the force fell just short of Gwent Police in tenth.
BMW and Mercedes are more popular than Skoda and VW
Surprisingly, prestigious German brands BMW and Mercedes-Benz are more popular for coppers than the affordable Skoda and Volkswagen equivalents – in an age of ever-tightening budgets, this could be seen as a bold move.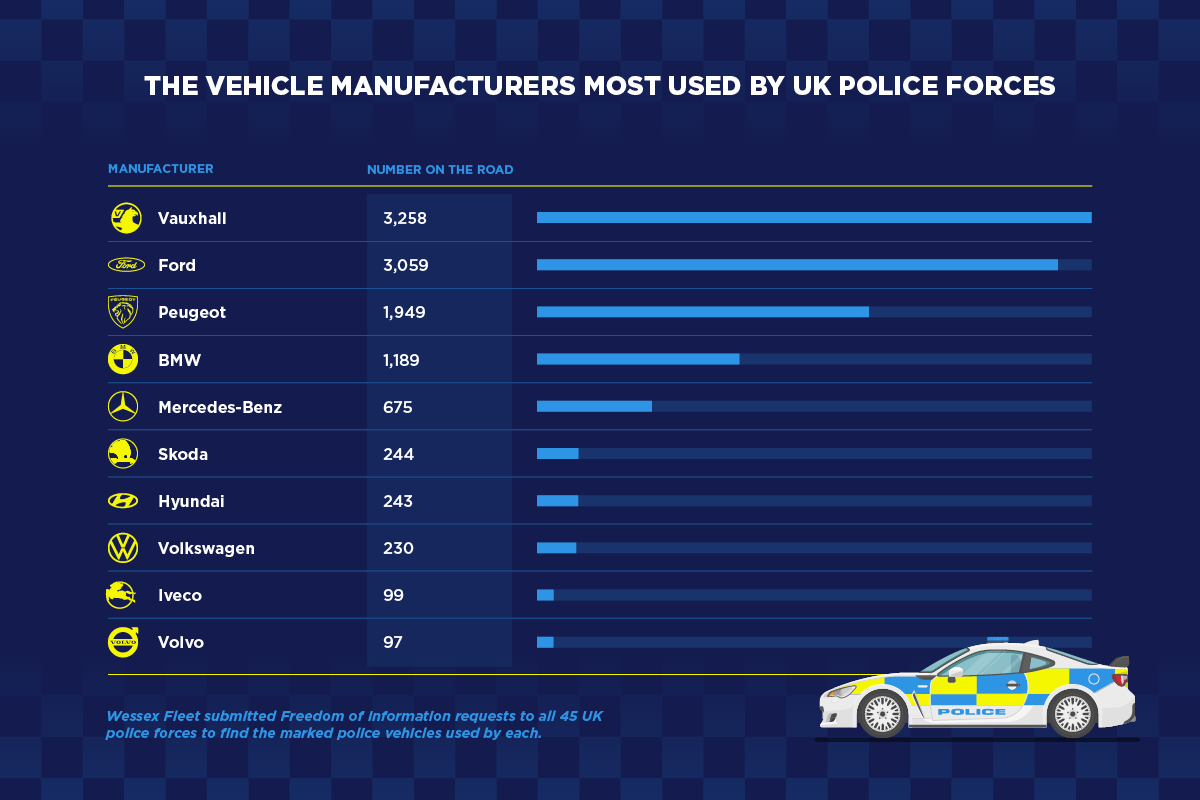 Unsurprisingly, however, is Vauxhall in top spot with 3,258 marked examples on UK roads – i.e. those with the blue-green stickering and emergency lighting. With the average brand-new Vauxhall costing £22,279, compared with BMW's average of £57,874, it's little wonder the British brand is the go-to.
In fact, there are more Vauxhalls than Volvo, Iveco, Volkswagen, Hyundai, Skoda, Mercedes-Benz and BMW combined.
At the less common but more heavy-duty end of the scale, Kent Police also makes use of an Ovik, the British manufacturer specialising in armoured vehicles. West Mercia's Quadzillas, on the other hand, are self-explanatory.
UK police use more BMW X5s than they do Skoda Octavias
Vauxhall's dominance also carries into our table of most used models as well, with very nearly 2,000 marked Astras being used between the forces.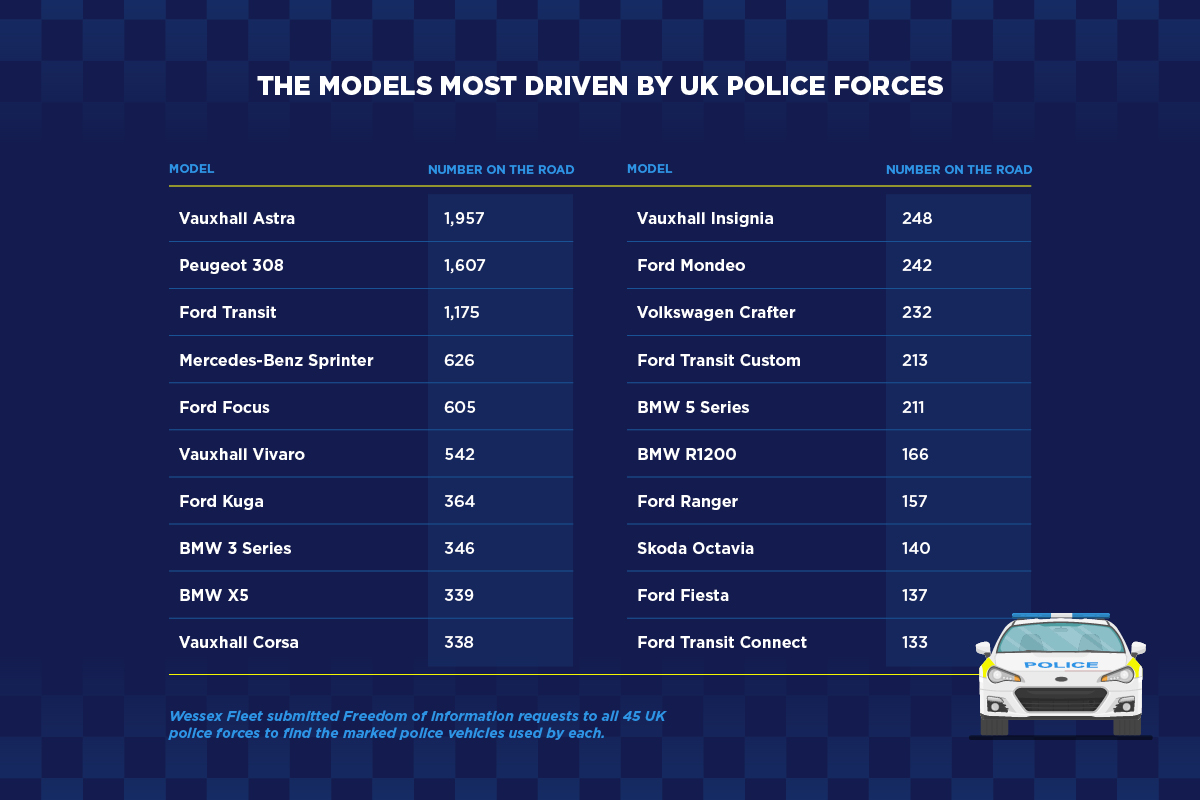 Commercial vehicles are also popular, with the Ford Transit, Merc Sprinter and Vauxhall Vivaro vans combining to a total of 2,689. In all, three Transits variants made the list – ironic, considering the original was involved in 95% of bank raids in the early 70s.
BMW is another repeat performer, with its 3 Series, 5 Series, X5 and R1200 motorbike all making the top 20. The Skoda Octavia and Ford Fiesta, affordable motors that we imagine are up to the task of most callouts, are both outnumbered by the BMWs. The extra brawn will come in handy for more testing operations, however.
Undercover coppers opt for the Corsa
We also requested separate figures on unmarked police vehicles – those without the hi-vis liveries and bulky blue bar on top. The results show that undercover coppers are hiding in plain sight, with the majority moving about in Vauxhall Corsas.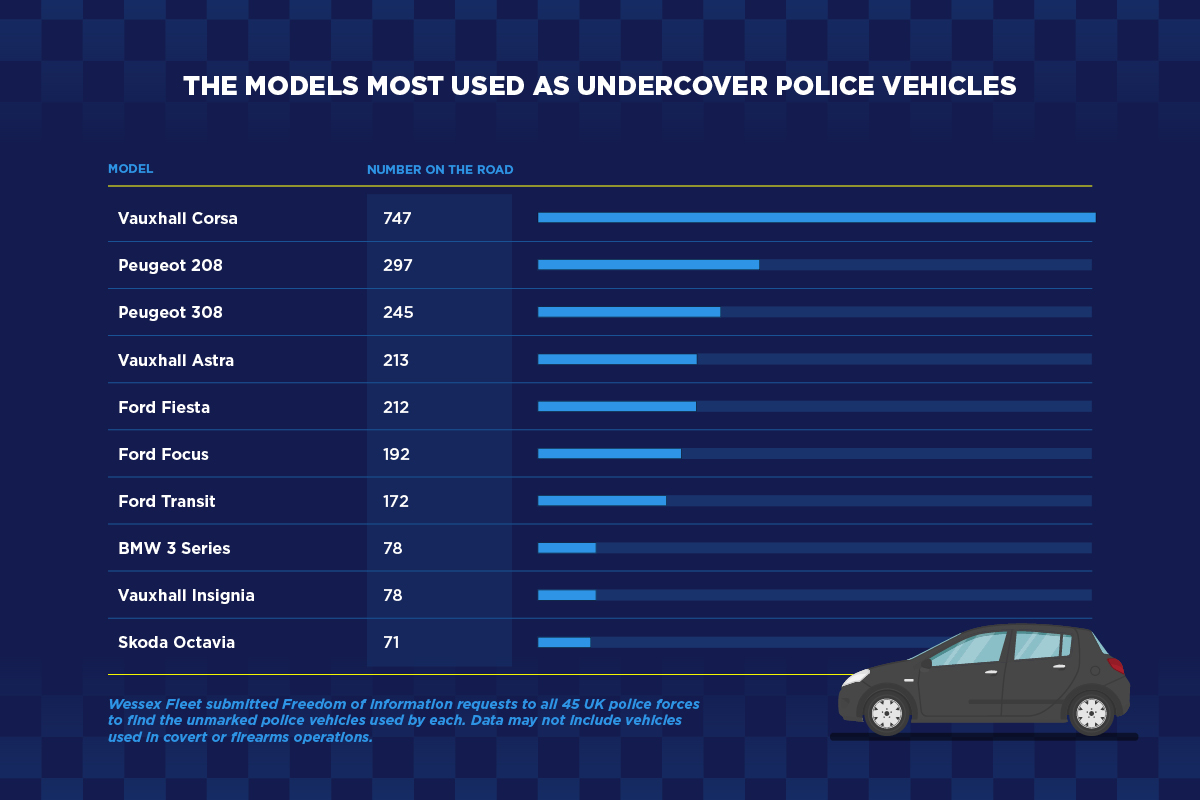 The Astra also features here, just below the Peugeot 208 and 308 in second and third. BMW also gets a look in, with 78 unmarked examples of the 3 Series.
However, our wider research also revealed some much more conspicuous undercover motors. One police force, for example, makes use of an Alfa Romeo Stelvio, a class-leading SUV that starts at £44,085. But even that pales in comparison to the £84k Nissan GT-R that another authority opted for – that's enough to pay the average police officer's full salary for two and a half years.
Methodology
We sent Freedom of Information requests to each of the 45 UK police forces to determine the size and makeup of their vehicle fleets, for both marked and unmarked vehicles.
In addition to ranking the most used makes and models, we applied the figures to the areas and population covered, to determine the forces covering the most ground. The figures on unmarked vehicles have been pooled together to prevent models being attributed to specific forces and regions, which could have a negative impact on policing. The unmarked figures may not include vehicles used in covert or firearms operations.
For more automotive insight and features, make sure to bookmark the Wessex Fleet blog.