July 29, 2022

Abby Nuttall

Fleet News
The UK government intends to ban the sale of new petrol and diesel vehicles by 2030 and hybrid vehicles by 2035. The motivation for the ban is based on the target of the country being net-zero carbon by the year 2050.
If you're a UK business owner, you may be wondering if it's worth switching your petrol or diesel fleet of cars and vans to a fully electric alternative ahead of the new 2030 measures.
Wessex Fleet has crunched the numbers to determine how much money businesses could actually save, in the long and short term, by switching to an EV (electric vehicles) fleet.
What are the Advantages of Switching to EVs for a Business Fleet?
Many UK drivers are aware of plenty of individual benefits of switching a single petrol or diesel car to an EV, but what about an entire business fleet?
Some of the major benefits of an EV fleet include:
1.  The business can save money
2.  The employees can save money
3. A more sustainable business
4. Improve productivity by charging vehicles overnight
5. Enjoy tax benefits
6. Be better for the environment
7. Reduce maintenance and running costs
8. Avoid ULEZ and LEZ fees
9. Cleaner air and less noise pollution
10. No reliance on fossil fuels
We also expand on why your business needs to invest in electric vehicle charging over on our blog.
Where Can a Business Save Money?
To work out exactly how much a business could save, we have considered a number of factors.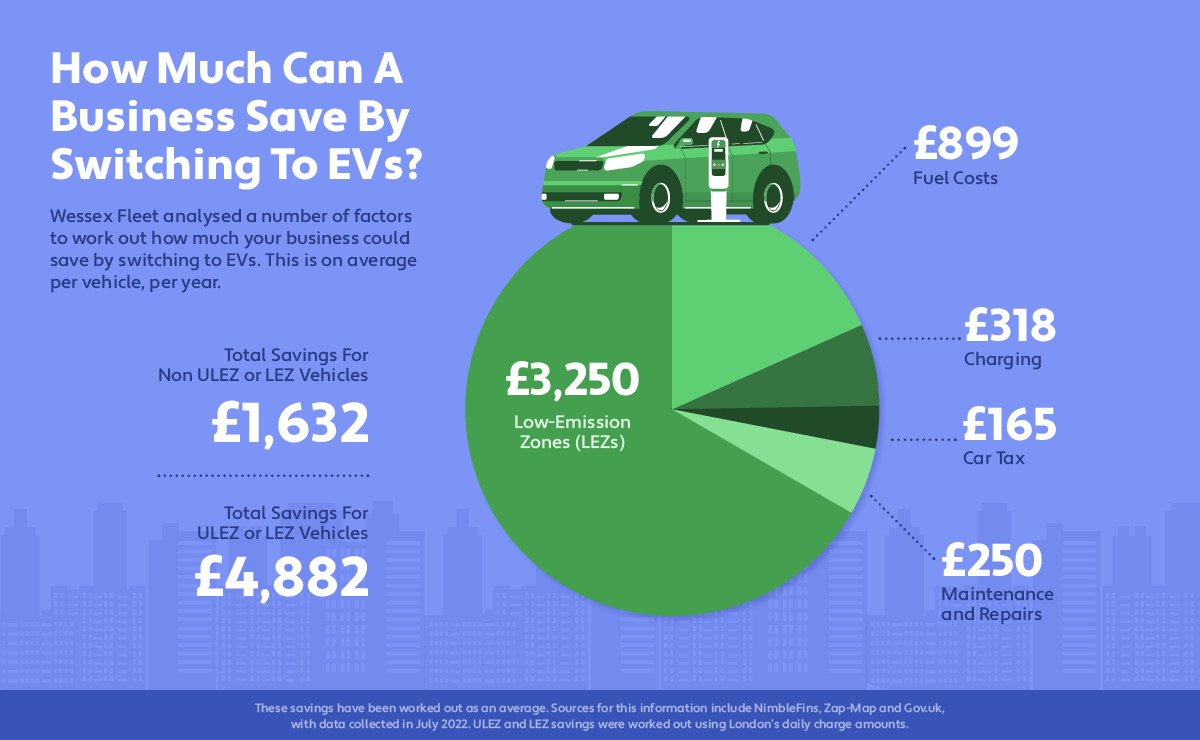 Fuel
Although the price of fuel is in constant flux, one thing is for sure: money can be saved in the long run when comparing the cost of charging an electric vehicle to the price of petrol. According to nimblefins.co.uk, the estimated cost to charge an electric car is around 8p per mile, while the average cost of petrol is around 20.2p per mile (at the time of writing).
So, taking the average mileage of a British driver, around 7,600 miles per year, the fuel savings come out at around £899 per year, per driver. 
Saving per vehicle, per year: £899
Public EV Charging
It's easier than ever to find free public charging points in the UK, so your employees can find places to charge their cars at no cost. According to Zap-Map.com, there are around 35,000 charging devices in the UK, of which 5,430 are free to use.
If your drivers are able to find free charging points, they could reduce the average cost of charging an EV, which is currently at an average of £636 per year.
If each driver charged their EV at a free ChargePoint around half of the time, for example, they could each save £318 across the year on the cost of electricity either at home or at work. With that being said, investing in electric vehicle charging points for your business is an extremely shrewd move.
Saving per vehicle, per year: £318
Car Tax
As electric car drivers don't need to pay any road tax, hundreds of pounds can be saved. This is especially true in the first year when car tax for petrol vehicles can be as high as £2,245. The actual savings will depend on the CO2 emissions and size of the car, but road tax stays at £0 for electric cars.
Savings vs petrol cars in the first year are as follows:
| | | | | |
| --- | --- | --- | --- | --- |
| CO2 emissions | Electric Cars | Diesel cars (TC49) that meet the RDE2 standard and petrol cars (TC48) | All other diesel cars (TC49) | Alternative fuel cars (TC59) |
| 0g/km | £0 | £0 | £0 | £0 |
| 1 to 50g/km | £0 | £10 | £25 | £0 |
| 51 to 75g/km | £0 | £25 | £120 | £15 |
| 76 to 90g/km | £0 | £120 | £150 | £110 |
| 91 to 100g/km | £0 | £150 | £170 | £140 |
| 101 to 110g/km | £0 | £170 | £190 | £160 |
| 111 to 130g/km | £0 | £190 | £230 | £180 |
| 131 to 150g/km | £0 | £230 | £585 | £220 |
| 151 to 170g/km | £0 | £585 | £945 | £575 |
| 171 to 190g/km | £0 | £945 | £1,420 | £935 |
| 191 to 225g/km | £0 | £1,420 | £2,015 | £1,410 |
| 226 to 255g/km | £0 | £2,015 | £2,365 | £2,005 |
| Over 255g/km | £0 | £2,365 | £2,365 | £2,355 |
Savings after the first year are £165 for vehicles worth less than £40,000, or £520 for those with a list price of over £40,000.
Based on the most popular car for drivers in the UK here in 2022, the Vauxhall Corsa at 95g/km, road tax savings can be £150 for the first year and £165 in the years after. This will greatly increase for fleets with larger cars and vans across the range.
Savings per vehicle, per year: £165
Low Emissions Zones
If your fleet travels through an area with a low emissions zone, fees need to be paid by vehicles that are considered to be highly polluting. London is the main area with both Low Emission Zones (LEZ) and Ultra-Low Emission Zones (ULEZ), with a daily charge of £12.50 for cars, motorcycles and vans, or £100 for heavier vehicles such as lorries over 3.5 tonnes.
In the event that a business fleet uses the ULEZ five times a week, each driver would need to pay the £12.50 daily charge around 260 times per year, costing £3250. As the journey is for work, this cost will likely need to be reimbursed by the business.
As they are low-emission vehicles, electric cars do not need to pay these fees, so your business could save huge amounts in the long run if you have many drivers in ULEZ and LEZ areas.
Savings per vehicle, per year: £3250
Maintenance and Repair Costs
As electric cars have fewer components and parts than standard petrol and diesel vehicles, there are fewer points of failure and thus less chance of the vehicle breaking down.
What this means is that servicing and maintenance of an EV are much more cost-effective than other alternatives.
It goes without saying that your business would want to reduce the amount of time and money spent fixing your vehicles, as downtime for maintenance can impact your company's bottom line.
According to Consumer Reports, EVs have maintenance costs that are 30% lower than ICE vehicles on average. They found that EVs cost roughly £750 per year to fix and maintain, compared to around £1000 per year for petrol and diesel vehicles.
Savings per vehicle, per year: £250
Government Grants
There are some grants that you can benefit from to help you with the transition to a fully electric fleet, as the government look to encourage businesses to make the switch.
These grants include the workplace charging scheme. This can cover up to 75% of the total costs of the purchase and installation of EV charge points, with a cap of £350 per socket and 40 sockets across all sites. 
Workplace charging saving: £14,000
Environmental benefits
As well as the monetary savings, your business can also make a real difference to the environment by switching to a fully EV fleet. As these electric cars produce zero emissions, they are greener and better for the planet than petrol and diesel alternatives.
By swapping petrol or diesel vehicles for EVs, your business can help combat the effects of climate change by reducing the number of greenhouse gases. With your fleet no longer releasing CO2, the air quality in the surrounding area is also improved and much cleaner.
This move is likely to win over consumers too, as you're showing that your business is conscious of the environmental impact of its work.
Overall Savings
Depending on the size of your fleet, the amount you could save will vary. We've looked at some examples, offering possible saving amounts for both businesses that need to pay the Ultra Low Emissions Zone and Low Emissions Zone payments regularly and those that don't.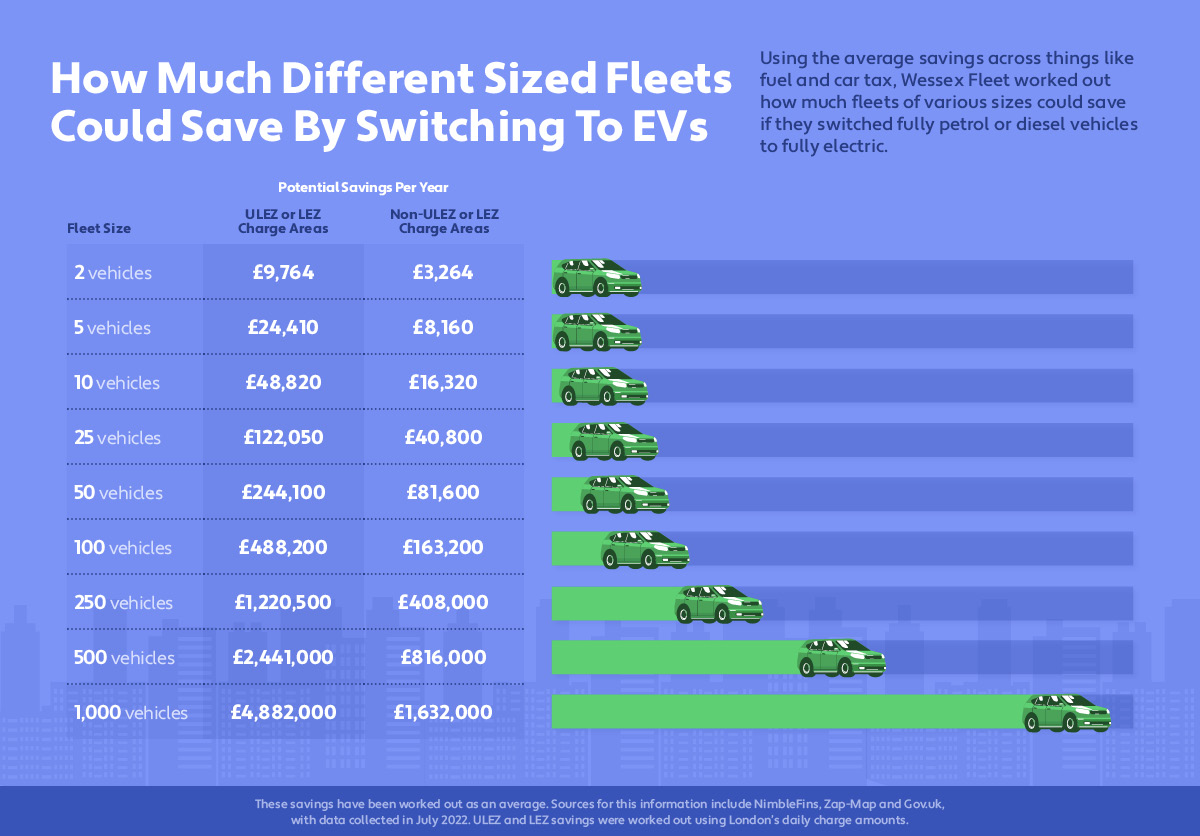 How Much Could Certain Businesses and Sectors Save?
We've also taken a look at some big businesses and corporations that operate in the UK, determining how much they could save per year on average with a fully electric fleet when compared to if their fleet was all petrol or diesel models.
| | | |
| --- | --- | --- |
| Company | Number of Vehicles | Savings Per Year (Non ULEZ or LEZ Charge Areas) |
| Royal Mail | 50,800 | £82,905,600 |
| Uber | 60,000 | £97,920,000 |
| Amazon | 1,000* | £1,632,000 |
| Tesco | 5,000 | £8,160,000 |
| Asda | 6,000 | £9,792,000 |
| Sainsbury's | 1,400 | £2,284,800 |
*This number denotes Amazon's electric delivery vans on UK roads.
Simon Naylor, Director of Wessex Fleet, added: "We've seen a big rise in enquiries from businesses looking to switch their fleets to EV's, and seeing these numbers it's understandable why. With many businesses looking for ways to save money after the pandemic and ways to save on their carbon footprint, this could be a good alternative."
What Could Your Business Do with the Money You'd Save?
So, now that your business has saved so much money by switching to EVs, what could you do with the extra cash?
For example, with a fleet of 100 and estimated yearly savings of around £488,200, your business could buy:
 488 MacBook Airs (£999 each)
150,215 Starbucks Vanilla Spice Lattes (£3.25 each)
8,136 Office Chairs (£60 each)
697,428 Bottles of Water (£0.70 each)
1,220 TVs (£400 each)
48,839,535 Sheets of Paper (£24.55 for 2500 sheets)
174,357 Lightbulbs (£5.61 for a pack of 2)
The possibilities are endless, and no matter what you spend the extra money on, it's clear that your business can hugely benefit from switching to a fully electric fleet, and you can get ahead of the game by making the decision sooner rather than later.
Find out how the experts at Wessex Fleet can help you today by checking out our Fleet Management services.

---
Enjoyed this article? Read more of our latest blogs below:
Want to know more about fleet vehicles?
For all our latest news and blogs click HERE.
Or are you looking to understand the company car, fleet management or any other aspect of fleet vehicles? If so, then check out our Guide Pages.